Cold Planer:
PM102 Wheel Undercarriage Cold Planer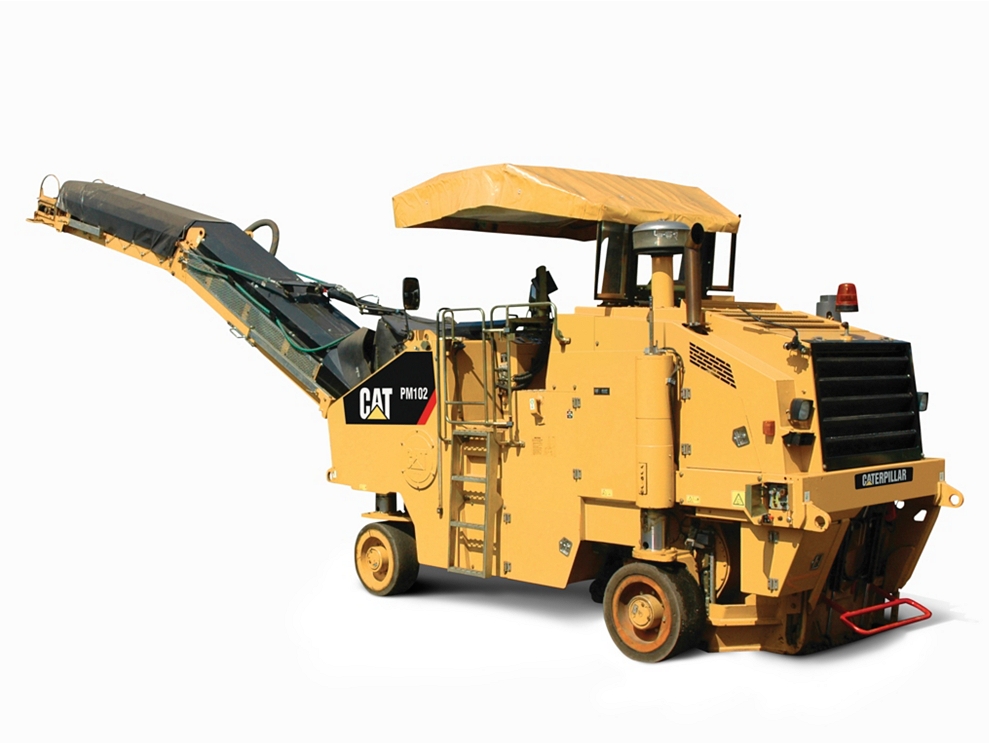 Engine Model

C7 with ACERT

Fuel Tank Capacity

105.0 gal

Gross Power

225.0 hp

Operating Length (conveyor up)

35.08 ft
The new PM102 with a wheel undercarriage combines enhanced production capabilities, optimized performance and simplified service to complete tough milling applications with productive results. The Cat® C7 Engine with ACERT Technology provides ample power while meeting U.S. EPA Tier 3 and European EU Stage IIIa compliancy. Designed for high production and long life, the PM102 rotor has quick release conical tool holders for quick and easy tool replacement. And the conveyor can be folded to reduce machine dimensions during transport.
---
---
Product Specs
Engine

Engine Model

C7 with ACERT

Gross Power

225.0hp

Engine Model

C7 with ACERT

Gross Power

225HP

Service Refill Capacities

Fuel Tank Capacity

105.0gal

Fuel Tank Capacity

105gal (US)

Water Spray System

280gal (US)

Dimensions

Operating Length (conveyor up)

35.08ft

Operating Width

6.5ft

Maximum Truck Clearance

15.58ft

Shipping Width

7.75ft

Operating Length - Conveyor Up

35.08ft

Operating Width

6.5ft

Maximum Truck Clearance

15.58ft

Shipping Width

7.75ft

Maximum Operating Height

11.17ft

Minimum Operating Height

7.67ft

Shipping Length - Base Machine

17.42ft

Shipping Maximum Height

10.08ft

Shipping Length - With Conveyor Folded

27.67ft

Operating Specifications

Inside Turning Radius

6.6ft

Maximum Travel Speed

3.9mph

Operating Speed

89.0ft/min

Inside Turn Radius

6.6ft

Maximum Travel Speed

3.9mile/h

Operating Speed

89ft/min

Rotor Assembly

Cutting Width

40in

Maximum Cutting Depth

12in

Number of Cutting Tools

97

Weights

Operating Weight - With Full Water Tank

37705lb

Shipping Weight - With Empty Water Tank

36160lb

Conveyor System

Collecting Conveyor Speed

827ft/min

Collecting Conveyor Width

21.6in

Discharge Conveyor Length

20.5ft

Discharge Conveyor Width

23.6in

Discharge Conveyor Maximum Speed

827ft/min

Discharge Conveyor Swing - From Center

41°
Find a Boyd CAT

Location

or

Rep

Near You
BOYD CAT USED PARTS - offering discontinued, rebuilds, out of stock, and CAT bargain list and aftermarket. Save money. Buy used. Used_Parts@BoydCAT.com
X