Compactors:
815K Soil Compactor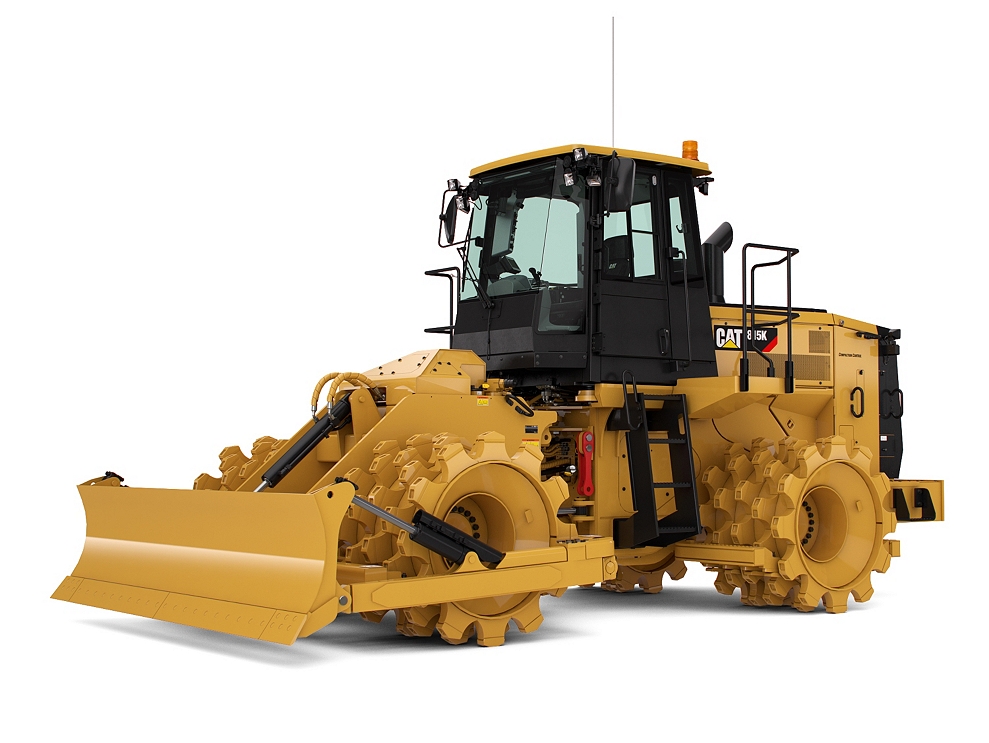 Engine Model

Cat® C7.1 ACERT™: configured for two emissions options

Net Power

248 hp

Operating Weight

49353 lb

Emissions

Meets U.S. EPA Tier 4 Final/EU Stage IV emission standards or meets U.S. EPA Tier 3/EU Stage IIIA equivalent emission standards
Cat Soil Compactors are designed with durability built in, ensuring maximum availability through multiple life cycles. With optimized performance and simplified serviceability, our machines allow you to operate more efficiently and safely. Representing a long-standing commitment to quality and performance, this rugged, powerful machine is designed and built for heavy-duty compaction and dozing operations. Focused on helping our customers succeed, we have continued to build upon each new series. The 815K continues our legacy of reliability, performance, safety, operator comfort, serviceability, and efficiency.
---
---
Product Specs
Engine

Engine Model

Cat® C7.1 ACERT™: configured for two emissions options

Net Power

248hp

Emissions

Meets U.S. EPA Tier 4 Final/EU Stage IV emission standards or meets U.S. EPA Tier 3/EU Stage IIIA equivalent emission standards

Rated Power (SAE J1349) – Tier 4 Final/Stage IV

248hp

Rated Power (Net ISO 9249) – Tier 4 Final/Stage IV

248hp

Gross Power (SAE J1995) – Tier 4 Final/Stage IV

284hp

Gross Power (ISO 14396) – Tier 4 Final/Stage IV

274hp

Maximum Net Torque @ 1,400 rpm – Tier 4 Final/Stage IV

899lbf-ft

Torque Rise - Tier 4 Final/Stage IV

52%

Rated Power (SAE J1349) – Tier 3/Stage IIIA equivalent

249hp

Rated Power (Net ISO 9249) – Tier 3/Stage IIIA equivalent

249hp

Gross Power (SAE J1995) – Tier 3/Stage IIIA equivalent

286hp

Gross Power (ISO 14396) – Tier 3/Stage IIIA equivalent

275hp

Bore

4.1in

Stroke

5.3in

Displacement

427.8in3

High Idle Speed

2270rpm

Low Idle Speed

800rpm

Maximum Net Torque @ 1,400 rpm – Tier 3/Stage IIIA equivalent

749lbf-ft

Torque Rise - Tier 3/Stage IIIA Equivalent

26%

Maximum Altitude without Derating

9842.52ft

Engine Model

Cat® C7.1: configured for two emissions options

Net Power

248HP

Bore

4.1in

Stroke

5.3in

Displacement

427.8in³

Emissions

Meets U.S. EPA Tier 4 Final/EU Stage IV emission standards or meets U.S. EPA Tier 3/EU Stage IIIA equivalent emission standards

Gross Power - ISO 14396 - Tier 3/Stage IIIA Equivalent

275HP

Gross Power - ISO 14396 - Tier 4 Final/Stage IV

274HP

Gross Power - SAE J1995 - Tier 3/Stage IIIA Equivalent

286HP

Gross Power - SAE J1995 - Tier 4 Final/Stage IV

284HP

High Idle Speed

2270r/min

Low Idle Speed

800r/min

Maximum Altitude - Without Derating

9842.52ft

Maximum Net Torque - 1,400 rpm - Tier 3/Stage IIIA Equivalent

749lb/ft

Maximum Net Torque - 1,400 rpm - Tier 4 Final/Stage IV

899lb/ft

Rated Power (Net ISO 9249) - Tier 3/Stage IIIA equivalent

249HP

Rated Power (Net ISO 9249) - Tier 4 Final/Stage IV

248HP

Rated Power (SAE J1349) - Tier 3/Stage IIIA Equivalent

249HP

Rated Power (SAE J1349) - Tier 4 Final/Stage IV

248HP

Operating Specifications

Operating Weight

49353lb

Maximum Operating Weight (Tier 4 Final/Stage IV)

49353lb

Maximum Operating Weight (Tier 3/Stage IIIA equivalent)

48740lb

Maximum Operating Weight (Tier 3/Stage IIIA equivalent)

48740lb

Maximum Operating Weight (Tier 4 Final/Stage IV)

49353lb

Operating Weight

49353lb

Transmission

Transmission Type

Planetary – Powershift – ECPC

Travel Speeds: Forward – First

4.2mph

Travel Speeds: Forward – Second

7.5mph

Travel Speeds - Forward - Third

13.2mile/h

Travel Speeds: Reverse – First

4.8mph

Travel Speeds: Reverse – Second

8.5mph

Travel Speeds - Reverse - Third

15mile/h

Transmission Type

Planetengetriebe – Lastschaltgetriebe – ECPC (Electronic Clutch Pressure Control, Elektronische Kupplungsdrucksteuerung)

Travel Speeds - Forward - First

4.2mile/h

Travel Speeds - Forward - Second

7.5mile/h

Travel Speeds - Reverse - First

4.8mile/h

Travel Speeds - Reverse - Second

8.5mile/h

Hydraulic System

Pump Flow at 2,111 rpm

23.5gal/min

Main Relief Pressure

3190psi

Maximum Supply Pressure

2930psi

Lift Cylinder, Double Acting - Bore and Stroke

101.6 mm × 627 mm (4 in × 24.7 in)

Tilt Cylinder, Double Acting - Bore and Stroke

101.6 mm × 167 mm (4 in × 6.6 in)

Main Relief Pressure

3190psi

Maximum Supply Pressure

2930psi

Pump Flow at 2,111 rpm

23.5gal/min

Service Refill Capacities

Cooling System – Tier 4 Final/Stage IV

21.4gal

Engine Crankcase

5.3gal

Transmission

14.8gal

Fuel Tank

132.1gal

Diesel Exhaust Fluid Tank (Tier 4 Final/Stage IV only)

4.2gal

Differentials and Final Drives – Front

17.2gal

Differentials and Final Drives – Rear

17.2gal

Hydraulic Tank Only

19.8gal

Cooling System – Tier 3/Stage IIIA equivalent

19.3gal

Note

All non-road Tier 4 Final and Stage IV diesel engines are required to use: – Ultra Low Sulfur Diesel (ULSD) fuels containing 15 ppm for EPA and 10 ppm for EU (mg/kg) sulfur or less. Biodiesel blends up to B20 are acceptable when blended with 15 ppm for EP

Cooling System - Tier 3/Stage IIIA Equivalent

19.3gal (US)

Cooling System - Tier 4 Final/Stage IV

21.4gal (US)

Diesel Exhaust Fluid Tank (Tier 4 Final/Stage IV Only)

4.2gal (US)

Differential - Final Drives - Front

17.2gal (US)

Differential - Final Drives - Rear

17.2gal (US)

Engine Crankcase

5.3gal (US)

Fuel Tank

132.1gal (US)

Hydraulic Tank Only

19.8gal (US)

Note

All non-road Tier 4 Final and Stage IV diesel engines are required to use: – Ultra Low Sulfur Diesel (ULSD) fuels containing 15 ppm for EPA and 10 ppm for EU (mg/kg) sulfur or less. Biodiesel blends up to B20 are acceptable when blended with 15 ppm for EP

Transmission

14.8gal (US)

Axles

Front

Planetary – Fixed

Rear

Planetary – Oscillating

Oscillation Angle

±10°

Front

Planetary – Fixed

Rear

Planetary – Oscillating

Oscillation Angle

±10 درجة

Brakes

Parking Brake

Drum and Shoe, Spring Applied, Hydraulic Released

Cab – Standard

Operator Sound Level (ISO 6396)

71dB(A)

Machine Sound Level (ISO 6395) Tier 3/Stage IIIA equivalent

112dB(A)

Cab - Standard

Machine Sound Level (ISO 6395) Tier 4/Stage IV

111dB(A)

Machine Sound Level (ISO 6395) Tier 3/Stage IIIA Equivalent

112dB(A)

Operator Sound Level - ISO 6396

71dB(A)

Cab – Suppression

Operator Sound Level (ISO 6396)

70dB(A)

Machine Sound Level (ISO 6395) Tier 3/Stage IIIA equivalent

110dB(A)

Hydraulic System – Steering

Steering System – Circuit

Closed Center Load Sensing

Bore

4.0in

Stroke

23.5in

Steering System – Pump

Piston – Variable Displacement

Maximum System Flow

147 L/min @ 2,111 rpm (38.8 gal/min @ 2,111 rpm)

Steering Pressure Limited

4003psi

Hydraulic System - Steering

Vehicle Articulation Angle

84 degrees

Bore

4in

Maximum System Flow

147 L/min @ 2,111 rpm (38.8 gal/min @ 2,111 rpm)

Steering Pressure Limited

4003psi

Steering System - Circuit

Closed Center Load Sensing

Steering System - Pump

Piston – Variable Displacement

Stroke

23.5in

Blades

Width – Moldboard Length

11.98ft

Height - Including Cutting Edge

2.82ft

Maximum Depth of Cut

0.73ft

Maximum Lift Above Ground

2.63ft

Blade Tilt Angle - Right - Hydraulic

4,8°

Blade Tilt Angle - Left - Hydraulic

5,5°

Blade Tilt Adjustment - Right

1ft

Blade Tilt Adjustment - Left

1.14ft

Total Tilt Adjustment

2.14ft

Width Over End Bits

12.34ft

Maximum Depth of Cut

0.73ft

Maximum Lift Above Ground

2.63ft

Width - Over End Bits

12.34ft

Width - Moldboard Length

11.98ft

Wheels

Weight

9720lb

Outside Diameter

4.63ft

Drum Diameter

3.38ft

Drum Width

3.25ft

Tips per Wheel

60

Width - Over Drums

10.64ft

Dimensions (Approximate)

Height to Top of Beacon

12.95ft

Height to Top of Exhaust Pipe

10.97ft

Height to Top of Hood

8.42ft

Ground Clearance to Bumper

2.18ft

Center Line of Rear Axle to Bumper

6.53ft

Hitch to Center Line of Front Axle

5.50ft

Wheelbase

10.99ft

Length with Blade on Ground

23.48ft

Ground Clearance

1.23ft

Width over Wheels

10.64ft

Height - Top of Cab Roof

11.98ft

Turning Radius - Inside of Push Arms

8.27ft

Centerline of Rear Axle to Bumper

6.53ft

Ground Clearance

1.23ft

Ground Clearance - Bumper

2.18ft

Height - Top of Beacon

12.95ft

Height - Top of Exhaust Pipe

10.97ft

Height - Top of Hood

8.42ft

Hitch to Centerline of Front Axle

5.5ft

Length - With Blade on Ground

23.48ft

Wheel Base

10.99ft

Width - Over Wheels

10.64ft

Cab - Suppression

Machine Sound Level (ISO 6395) Tier 4/Stage IV

109dB(A)

Machine Sound Level (ISO 6395) Tier 3/Stage IIIA Equivalent

110dB(A)

Operator Sound Level - ISO 6396

70dB(A)

Braking System

Parking Brake

Drum and Shoe, Spring Applied, Hydraulic Released
Equipment
Note

Standard and optional equipment may vary. Consult your Cat dealer for details.

Power Train

Advanced Productivity Electronic Control System (APECS)
Air to air aftercooler
Brakes, full hydraulic, enclosed, wet multiple disc service brakes
Cat clean emission module (Tier 4 Final/Stage IV only)
Electro-hydraulic parking brake
Electronic Clutch Pressure Control (ECPC)
Engine, Cat C7.1 (configured for two emissions options): – Tier 4 Final/Stage IV – Tier 3/Stage IIIA equivalent
Engine driven cooling fan – suction
Fuel priming pump (electric)
Fuel to air cooler
Ground level engine shutoff
Muffler (under hood) (Tier 3/Stage IIIA equivalent only)
Radiator, unit core
Starting aid (ether)
Throttle lock
Torque converter
Transmission, planetary, with 3F/3R speed range control

Electrical

Alarm, back-up
Alternator, 150 amp
Batteries, maintenance-free
Electrical system, 24V
Ground level lockable master disconnect switch
Lights, directional (rear)
Light, warning switched (LED strobe)
Lighting system, (front and rear)
Starter, electric
Starting receptacle for emergency start

Operator Environment

12V power port for mobile phone or laptop connection
AccuGrade™ mapping (ready)
Air conditioner
Cab, sound-suppressed pressurized
Cab door, sliding window (LH)
Cat Compaction Control (ready)
Cat Detect: Object Detection (ready)
Coat and hard hat hooks
Finger tip shifting controls
Flip-up armrest
Heater and defroster
Horn, electric
Hydraulic controls – seat mounted
Implement hydraulic lockout
Instrumentation, gauges: – DEF fluid level (Tier 4 Final/Stage IV only) – Engine coolant temperature – Fuel level – Hydraulic oil temperature – Speedometer/tachometer – Torque converter temperature
Instrumentation, warning indicators: – Action alert system, three categories – Brake oil pressure – Electrical system, low voltage – Engine failure malfunction alert and action lamp – Parking brake status
Light, (dome) cab
Lunch box and beverage holders
Mirror, internal (panoramic)
Mirrors, rearview (externally mounted)
Radio ready for entertainment: – Antenna – Speakers – Converter (12V, 10-15 amp)
Seat, Cat Comfort (cloth) air suspension
Seat belt with minder, retractable, 76 mm (3 in) wide
STIC control system with lockout
Sun visor, front
Tinted glass
Transmission gear (indicator)
Vital Information Management System (VIMS): – Graphical information display – External data port – Customizable operator profiles – Event indicator light on rear grill
Wet-arm wipers/washers (front and rear): – Intermittent wipers (front and rear)

Tires, Rims And Wheels

Guards

Cleaner bars with teeth
Guards, crankcase and power train
Guard, driveshaft

Fluids

Antifreeze, premixed 50% concentration extended life (–34° C/–29° F)

Other Standard Equipment

DEF tank fill gauge
Doors, service access (locking)
Ecology drains for engine, radiator, transmission, hydraulic tank
Engine, crankcase, 500 hour interval with CJ-4 oil
Emergency platform egress
Fire suppression ready
Fuel tank, 500 L (132.1 gal)
Hitch, drawbar with pin
Hoses, Cat XT™
Hydraulic, engine, and transmission oil coolers
Oil change system, high speed
Oil sampling valves
Steering, load sensing
Total hydraulic filtration system
Vandalism protection caplocks
Venturi stack

Standard Attachments – Hydraulics

Hydraulics: – Standard or EU and Canada

Standard Attachments – Operator Environment

Glass (window): – Standard bonded or rubber-mounted glass
Precleaner – cab: – Standard or powered
Seat – cab: – Standard or heated and ventilated
Mirrors – cab: – Standard or heated

Standard Attachments – Power Train

Axles: – Standard or non-spin rear

Standard Attachments – Special Arrangements

Engine Precleaners: – Turbine or dual stage

Standard Attachments – Electrical

Lights: – Standard or LED

Standard Attachments – Fuel Systems

Fuel tank: – Non-fast or fast fill

Standard Attachments – Technology Products

Product Link: – GSM, satellite

Standard Attachments – Cleaner Bars

Cleaner bars: – Standard or abrasive

Standard Attachments – Blades

Blades: – Straight or tilt-straight
Note

Standard and optional equipment may vary. Consult your Cat dealer for details.

Operator Environment

Camera, rear vision
Radio, AM/FM/AUX/USB/BLUETOOTH
Radio, CB (ready)

Technology Products

Compaction control, basic

Other Attachments

Sound suppression (required for Brazil)

Fluids

Antifreeze, –50° C (–58° F)

Starting Aids

Heater, engine coolant, 120V
Heater, engine coolant, 240V

Miscellaneous

Film (ANSI) (Tier 4 Final/Stage IV only)
EU certification (Tier 4 Final/Stage IV only)
Plate – year of manufacture (Tier 3/Stage IIIA equivalent only)
Find a Boyd CAT

Location

or

Rep

Near You
BOYD CAT USED PARTS - offering discontinued, rebuilds, out of stock, and CAT bargain list and aftermarket. Save money. Buy used. Used_Parts@BoydCAT.com
X