Cat Dozers:
D11T/D11T CD Dozer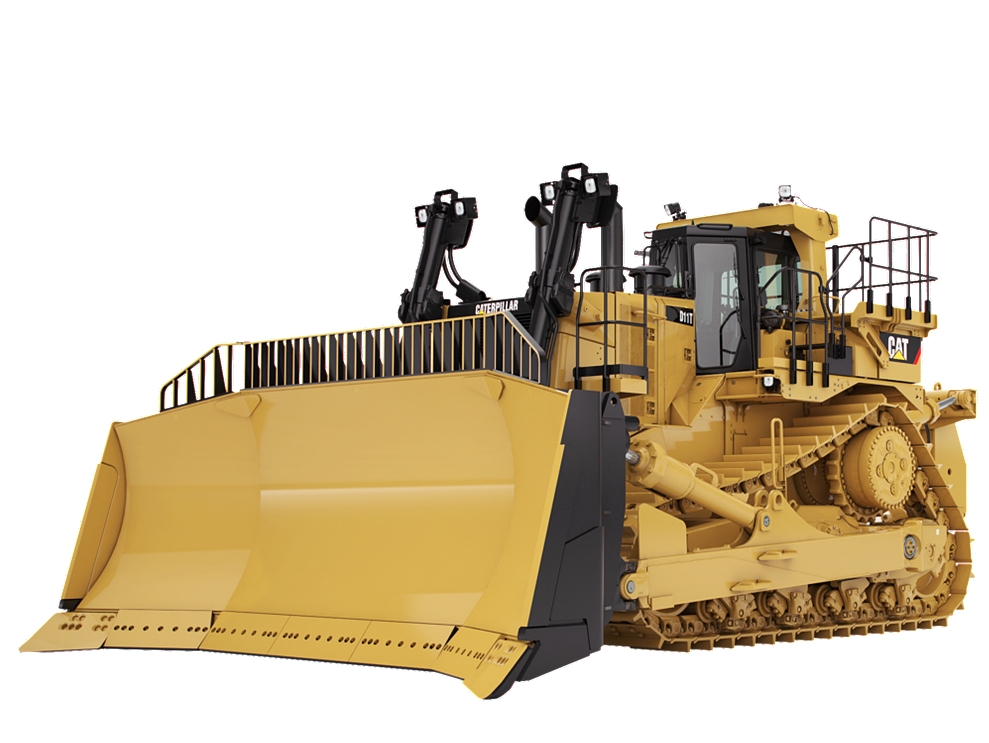 Engine Model

Cat® C32 ACERT™

Ground Clearance*

30.6 in

Number of Carrier Rollers

1 per side (optional)

Net SAE J1349/ISO 9249

850 hp
Cat® large dozers are designed with durability built in, ensuring maximum availability through multiple life cycles. By optimizing performance and simplifying serviceability with our modular design, our machines move more material efficiently and safely at a lower cost per ton. These models include safety enhancements, improved operator comfort, and productivity increasing electronic features to keep your business strong for generations to come.
---
---
Product Specs
Engine

Engine Model

Cat® C32 ACERT™

Net SAE J1349/ISO 9249

850hp

Bore

5.7in

Stroke

6.4in

Displacement

1959in3

Engine Power – ISO 14396

908hp

Engine Power – Gross SAE J1995*

913hp

Emissions

U.S. EPA Tier 4 Final

Engine Power – Net SAE J1349/ISO 9249

850hp

Engine Model

Cat® C32

Bore

5.7in

Stroke

6.4in

Displacement

1959in³

Emissions

U.S. EPA Tier 4 Final

Engine Power - Gross SAE J1995*

913HP

Engine Power - ISO 14396

908HP

Engine Power - Net SAE J1349/ISO 9249

850HP

Net SAE J1349/ISO 9249

850HP

Note (1)

* Excludes all fan losses.

Note (2)

Engine ratings apply at 1,800 rpm.

Note (3)

Net power advertised is the power available at the flywheel when the engine is equipped with air cleaner, muffler, alternator, fan, and engine emissions controls as required.

Note (4)

No derating required up to 3658 m (12,000 ft) altitude. High altitude attachment available for greater than 3658 m (12,000 ft).

Flywheel Power

850HP

Note

* Excludes all fan losses.

Note

Engine ratings apply at 1,800 rpm.

Note

Net power advertised is the power available at the flywheel when the engine is equipped with air cleaner, muffler, alternator, fan, and engine emissions controls as required.

Note

No derating required up to 3658 m (12,000 ft) altitude. High altitude attachment available for greater than 3658 m (12,000 ft).

Undercarriage

Ground Clearance*

30.6in

Number of Carrier Rollers

1 per side (optional)

Length of Track on Ground

175.0in

Length - Track on Ground

175in

Number of Carrier Rollers

1 per side (optional)

Ground Clearance*

30.6in

Note (1)

* Includes grouser height for total dimensions on hard surface.

Note (2)

Sleeve Bearing Track with Positive Pin Retention.

Shoe Type

Extreme Service

Width - Shoe

28in

Width - Shoe - CD

36in

Shoes/Side

41

Grouser Height

4in

Pitch

12.5in

Track Gauge

114in

Ground Contact Area

9781in²

Ground Contact Area - CD

12605in²

Track Rollers/Side

8

Note

* Includes grouser height for total dimensions on hard surface.

Note

Sleeve Bearing Track with Positive Pin Retention.

Transmission

Type

Planetary powershift

Type

Planetary powershift

1 Forward

2.4mile/h

2 Forward

4.2mile/h

3 Forward

7.3mile/h

1 Reverse

2.9mile/h

2 Reverse

5.1mile/h

3 Reverse

8.7mile/h

Transmission Clutch Diameter

21in

Service Refill Capacities

Fuel Tank

425gal

Cooling System

71.1gal

Power Train

90.9gal

Fuel Tank

425gal (US)

Cooling System

71.1gal (US)

Power Train

90.9gal (US)

Note

* With oil filters.

Fuel Tank - High Capacity

505gal (US)

Engine Crankcase*

27.2gal (US)

Final Drive - Each

12.4gal (US)

Roller Frames - Each

24.8gal (US)

Pivot Shaft Compartment

18.8gal (US)

Implement Hydraulic System - Tank Only

58.9gal (US)

Fuel Tank - Platform Ready

470gal (US)

Note

* With oil filters.

Standards

ROPS

Rollover Protective Structure (ROPS) meets the following criteria: SAE J1040 MAY94, ISO 3471:1994.

FOPS

Falling Objects Protective Structure (FOPS) meets the following criteria: ISO 3449:2005 LEVEL II.

FOPS

Falling Objects Protective Structure (FOPS) meets the following criteria: ISO 3449:2005 LEVEL II.

ROPS

Rollover Protective Structure (ROPS) meets the following criteria: SAE J1040 MAY94, ISO 3471:1994.

Sound (1)

The operator Equivalent Sound Pressure Level (Leq) is 79 dB(A) when ISO 6396:2008 is used to measure the value for an enclosed cab. This is a dynamic cycle sound exposure level. The cab was properly installed and maintained. The test was conducted with th

Sound (2)

The exterior sound pressure level for the standard machine measured at a distance of 15 m (49.2 ft) according to the test procedures specified in SAE J88 APR95, mid-gear-moving operation, is 87 dB(A).

Sound

The operator Equivalent Sound Pressure Level (Leq) is 79 dB(A) when ISO 6396:2008 is used to measure the value for an enclosed cab. This is a dynamic cycle sound exposure level. The cab was properly installed and maintained. The test was conducted with th

Sound

The exterior sound pressure level for the standard machine measured at a distance of 15 m (49.2 ft) according to the test procedures specified in SAE J88 APR95, mid-gear-moving operation, is 87 dB(A).

Hydraulic Controls

D11T CD – Pump Output (Implement)

177.0gal/min

D11T CD – Pump Type

Gear-type pump

D11T CD – Ripper (Lift) Relief Valve Setting

3500.0psi

D11T CD – Ripper (Pitch) Relief Valve Setting

3500.0psi

D11T CD – Tilt Cylinder Flow

66.0gal/min

D11T CD – Tilt Cylinder Relief Valve Setting

3600.0psi

D11T CD - Pump Output - Implement

177gal/min

D11T CD - Pump Type

Gear-type pump

D11T CD - Ripper (Lift) Relief Valve Setting

3500psi

D11T CD - Ripper (Pitch) Relief Valve Setting

3500psi

D11T CD - Tilt Cylinder Flow

66gal/min

D11T CD - Tilt Cylinder Relief Valve Setting

3600psi

Note (1)

Pump output measured at 1,800 engine rpm and 6895 kPa (1,000 psi).

Note (2)

Electro-hydraulic pilot valves assist operations of ripper and dozer controls.

Note (3)

Complete system consists of pump, tank with filter, oil cooler, valves, lines, and control levers.

D11T CD - Carrydozer Relief Valve Setting

3500psi

Note

Pump output measured at 1,800 engine rpm and 6895 kPa (1,000 psi).

Note

Electro-hydraulic pilot valves assist operations of ripper and dozer controls.

Note

Complete system consists of pump, tank with filter, oil cooler, valves, lines, and control levers.

D11T - Bulldozer Relief Valve Setting

3300psi

D11T - Combined Pump Output - Implement

164gal/min

D11T - Pump Type

Gear-type pump

D11T - Ripper (Lift) Relief Valve Setting

3300psi

D11T - Ripper (Pitch) Relief Valve Setting

3300psi

D11T - Tilt Cylinder Relief Valve Setting

3525psi

D11T - Tilt Pump Flow

41gal/min

Weights

Note (1)

D11T Operating Weight: Includes blade tilt cylinders, coolant, lubricants, full fuel tank, ROPS, FOPS cab, 11U ABR bulldozer, single-shank ripper with pin-puller, fast fuel, 710 mm (28 in) ES shoes, and operator.

Note (2)

D11T Shipping Weight: Base machine chassis with cab and pivot shaft. Doesn't include ROPS, ripper, blade, track, or roller frames.

Note (3)

D11T CD Operating Weight: Includes lubricant, coolant, full fuel tank, 915 mm (36 in) extreme service shoes, 11 Carrydozer, single-shank ripper, and operator.

Note (4)

D11T CD Shipping Weight: Base machine chassis with cab and pivot shaft. Doesn't include ROPS, ripper, blade, track, or roller frames.

Note

D11T Operating Weight: Includes blade tilt cylinders, coolant, lubricants, full fuel tank, ROPS, FOPS cab, 11U ABR bulldozer, single-shank ripper with pin-puller, fast fuel, 710 mm (28 in) ES shoes, and operator.

Note

D11T Shipping Weight: Base machine chassis with cab and pivot shaft. Doesn't include ROPS, ripper, blade, track, or roller frames.

Note

D11T CD Operating Weight: Includes lubricant, coolant, full fuel tank, 915 mm (36 in) extreme service shoes, 11 Carrydozer, single-shank ripper, and operator.

Note

D11T CD Shipping Weight: Base machine chassis with cab and pivot shaft. Doesn't include ROPS, ripper, blade, track, or roller frames.

Operating Weight

229800lb

Shipping Weight

82640lb

Operating Weight - CD

248500lb

Shipping Weight - CD

83340lb

Note (4)

D11T CD Shipping Weight: Base machine chassis with cab and pivot shaft. Doesn't include ROPS, ripper, blade, track, or roller frames.

Dimensions (Approximate) - D11T

Ground Clearance*

31.4in

Track Gauge

114in

Width - Without Trunnions - Standard Shoe

148.9in

Width - Over Trunnions

172.4in

Height - FOPS Cab*

173.4in

Height - Top of Stack*

179.1in

Height - ROPS/Canopy*

185.9in

Drawbar Height (Center of Clevis)*

37.1in

Length - Track on Ground

175in

Overall Length - Basic Tractor

242.5in

Length - Basic Tractor - With Drawbar

242.5in

Length - With SU-Blade

337.8in

Length - With U-Blade

340.2in

Length - With Single-Shank Ripper

319.2in

Length - With Multi-Shank Ripper

331.8in

Overall Length - SU-Blade/SS Ripper

414.4in

Note (1)

*Includes grouser height for total dimensions on hard surfaces.

Note (2)

D11T shown equipped with 710 mm (28 in) shoes.

Dimensions (Approximate) - D11T CD

Ground Clearance*

31.4in

Track Gauge

114in

Width - Without Trunnions - Standard Shoe

149.8in

Width - Over Trunnions

172.4in

Height - FOPS Cab*

173.4in

Height - Top of Stack*

179.1in

Height - ROPS/Canopy*

185.9in

Drawbar Height (Center of Clevis)*

37.1in

Length - Track on Ground

175in

Overall Length - Basic Tractor

242.5in

Length - Basic Tractor - With Drawbar

242.5in

Length - With SU-Blade**

345.1in

Length - With Single-Shank Ripper

319.2in

Length - With Multi-Shank Ripper

331.8in

Overall Length - SU-Blade/SS Ripper**

421.7in

Note (1)

*Includes grouser height for total dimensions on hard surfaces.

Note (2)

**CD Blade on D11T CD.

Note (3)

D11T shown equipped with 710 mm (28 in) shoes.

Steering and Brakes

Hydraulically Applied Multiple-disc Steering Clutch

17.3in

Spring Applied Multiple-disc Brake

24.1in

Track Roller Frame

Oscillation

13.8in
Equipment
Electrical

Alternator, 150 amp
Back up alarm
Batteries, 12-volt (4), 200 amp-hour
Converters, 12-volt, 10 amp and 20 amp
Diagnostic connector
Horn, forward warning
Lights, engine compartment
Lighting system, five (5) HID/seven (7) Halogen
Starting receptacle

Operator Environment

Advisor-electronic monitoring system
Air conditioner and heater
Armrest, adjustable
Cab, FOPS
Deactivation switch, hydraulic controls
Decelerator, pedal
Finger Tip Control (FTC) steering
Governor switch, electronic
Hydraulic system: – Electronically controlled for bulldozer and ripper control
Mirror, rearview
Radio ready, entertainment
ROPS rollbar
Seat belt, retractable 76 mm (3 in)
Seat, cloth, air suspension
Wipers, intermittent, low and high speeds

Power Train

Cat C32
Aftercoolers, air-to-air
Air filters, dual with precleaner
Aluminum bar plate cooling system: – Serial number prefix: AMA and MDG
Controlled throttle shifting
Coolant, extended life
Shift management
Engine Idle Shutdown Timer
Engine precleaner
Ether starting aid, automatic
Four planet, double-reduction planetary final drives
Fuel priming pump, electric
High speed oil changing system
Hydraulic demand fan
Copper Grommetted Tube Radiator - Serial number prefix JEL and JNS
Mufflers, dual
Parking brake, electronic
Prescreener
Separator, water/fuel
Thermal shields
Torque divider
Transmission, powershift: – (3F/3R speeds)

Technology

Auto blade assist
Enhanced auto shift
Product Link (satellite)
VIMS 3G

Undercarriage

Equalizer bar end pin grease fittings, remote
Rollers and idlers, lifetime lubricated
Sprocket rim segments, replaceable
Suspension-type undercarriage, eight-roller tubular track roller frame
Three bolt idler and roller caps
Track adjusters, hydraulic
Track guides
Two-piece master links

Safety And Security

Anchorage points
Fender guard rails
Heavy duty steps and handles
Operator not present monitoring system
Slope and side-slope monitor

Other Standard Equipment

Bottom guards
CD ROM parts book
Dual-tilt blade control
Ecology drains
Engine enclosure
Fluid sampling ports
Grade control ready
Ground level service center
Ripper Hydraulics
Vandalism, protection (8 caplocks)
Guards

Bottom guards, sealed
Bottom guards, partial
Guard, undercarriage idlers
Screens, grill door

Operator Station

Air conditioner: – Fender – ROPS
Cab glass: – 276 kPa (40 psi) – Dual pane impact resistant
Heated and ventilated seat
Operator arrangement: – 5th percentile arrangement – Quick opening
Powered precleaner
Visibility arrangements (camera and mirrors): – Single camera – Dual camera – Mirrors
Window shades

Power Train

Engine coolant, arctic
Engine precleaner, turbine
Engine prelube
Fan arrangements: – Hydraulic screens – Reversing (Not available on D11T Carrydozer.) – Reversing with screens (Not available on D11T Carrydozer.)
Final drives: – Clamshell guard
High altitude arrangement (Not available on D11T Carrydozer.)
Copper Grommetted Tube Radiator - Serial number prefix AMA and MDG
Remote power train and engine high speed oil change system located at the ground level service center

Undercarriage

Carrier rollers
Carrier rollers – cold weather
Tracks, PPR, sealed and lubricated: – 710 mm (28 in) Extreme Service (Not available on D11T Carrydozer.) – 710 mm (28 in) Extreme Service abrasion resistant material (Not available on D11T Carrydozer.) – 710 mm (28 in) Extreme Service trapezoidal hole (Not available on D11T Carrydozer.) – 810 mm (32 in) Extreme Service – 810 mm (32 in) Extreme Service abrasion resistant material – 810 mm (32 in) Extreme Service trapezoidal hole – 810 mm (32 in) Extreme Service tall links – 810 mm (32 in) Extreme Service tall links abrasion resistant material – 810 mm (32 in) Extreme Service trapezoidal hole tall links – 915 mm (36 in) Extreme Service clipped – 915 mm (36 in) Extreme Service clipped abrasion resistant material – 915 mm (36 in) Extreme Service clipped trapezoidal hole – 915 mm (36 in) Extreme Service clipped tall links
Undercarriage arrangements: – Abrasion – Cold abrasion – Cold weather – Sound

Bulldozer Attachments

11CD Abrasion resistant blade
11CD No wear plate
11SU Abrasion resistant blade (Not available on D11T Carrydozer.)
11SU Abrasion resistant blade, black (Not available on D11T Carrydozer.)
11SU No wear plate (Not available on D11T Carrydozer.)
11U Abrasion resistant blade (Not available on D11T Carrydozer.)
11U Abrasion resistant blade, black (Not available on D11T Carrydozer.)
11U No wear plate (Not available on D11T Carrydozer.)

Rear Attachments

Counterweight, rear
CapSure hammerless installation and positive retention system: – Single shank – Multi shank – Single shank deep
Drawbar, rear (Not available on D11T Carrydozer.)
Multi shank ripper: – Carrydozer – Leach Pad (Not available on D11T Carrydozer.) – Standard (Not available on D11T Carrydozer.)
Ripper lube
Single shank ripper: – Carrydozer/heavy – Push block (Not available on D11T Carrydozer.) – Standard (Not available on D11T Carrydozer.)

Technology

Command for Dozing (Installed by dealer.)
Machine control, performance: – AutoCarry – Automatic ripper control
Terrain for Grading: – With blade control

Safety And Security

Access arrangement (ladder and platform)
Fuel tank: – Platform ready – Extra capacity
Lights: – LED – LED, high intensity – Warning, strobe
Powered access ladder
Rear access platform

Other Attachments

Automatic lubrication system
Grease points, grouped
Heater, engine coolant
Heater, fuel
Hydraulic lines, AutoCarry
Hydraulic lines, screens
Hydraulic lines, screens and AutoCarry
Find a Boyd CAT

Location

or

Rep

Near You
BOYD CAT USED PARTS - offering discontinued, rebuilds, out of stock, and CAT bargain list and aftermarket. Save money. Buy used. Used_Parts@BoydCAT.com
X