Cat Dozers:
D6N Track-Type Tractor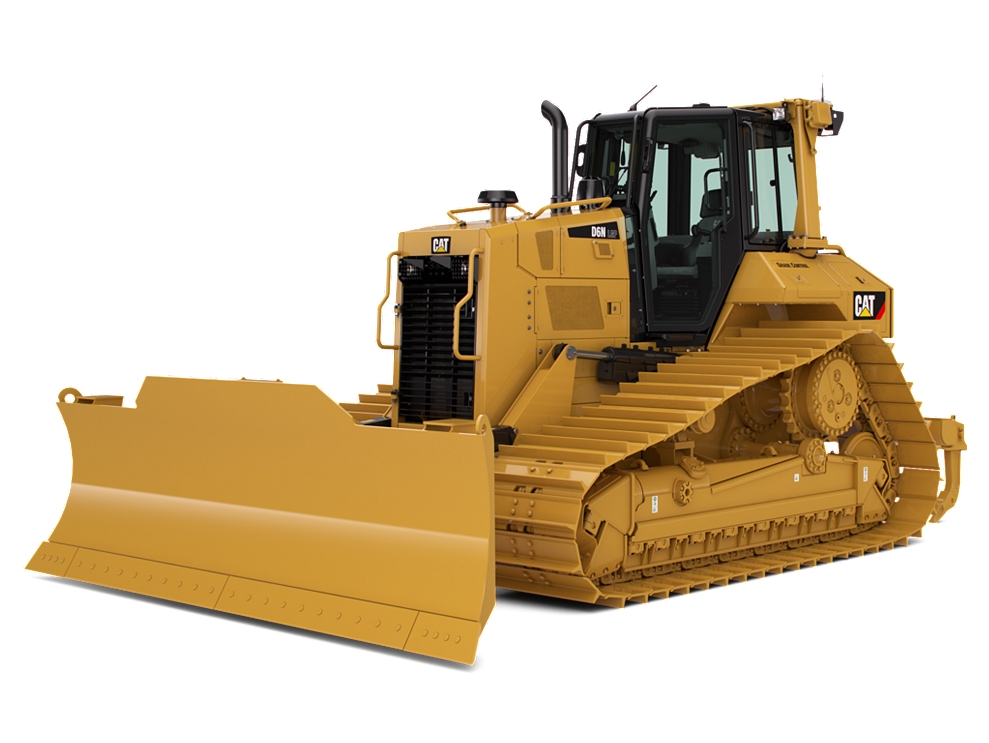 Engine Model

Cat® C7.1 ACERT™

Flywheel Power

166 hp

Operating Weight

36943 lb

Note

*For Europe only; Width is with end bits removed; Blade width with end bits is 3126 mm (10 ft).
The latest in the line of Cat D6N dozers combines well-known versatility with a range of technology features to give you more job site productivity than ever before. A new transmission with lock-up clutch torque converter delivers ease of operation, increased net power, plus a 10-15 percent improvement in fuel efficiency. The D6N has the weight and horsepower you want for dozing applications and the balance and stability you need for finish grading – all in one easy-to-transport machine.
---
---
Product Specs
Engine

Engine Model

Cat® C7.1 ACERT™

Flywheel Power

166hp

Bore

4.1in

Stroke

5.3in

Displacement

433in3

Emissions

U.S. EPA Tier 4 Final/EU Stage IV/Korea Tier 4

Net Power - 1,800 rpm - ISO 9249/SAE J1349

166HP

Net Power - 1,800 rpm - ISO 9249/SAE J1349 (DIN)

168HP

Engine Model

Cat® C7.1 ACERT™

Flywheel Power

166HP

Bore

4.1in

Stroke

5.3in

Displacement

433in³

Emissions

U.S. EPA Tier 4 Final/EU Stage IV/Korea Tier 4 Final

Note (1)

Net power advertised is the power available at the engine flywheel when the engine is equipped with the air cleaner, muffler, alternator, cooling fan at maximum speed.

Note (2)

No derating required up to 3000 m (9,840 ft) altitude, beyond 3000 m (9,840 ft) automatic derating occurs.

Note (3)

All non-road Tier 4 Interim and Final, Stage IIIB and IV, and Korea Tier 4 Final diesel engines are required to use only Ultra Low Sulfur Diesel (ULSD) fuels containing 15 ppm EPA/10 ppm EU (mg/kg) sulfur or less. Biodiesel blends up to B20 (20% blend by

Note (4)

Diesel Exhaust Fluid (DEF) used in Cat Selective Catalytic Reduction (SCR) systems must meet the requirements outlined in the International Organization for Standardization (ISO) standard 22241.

Engine Power - Maximum - At 2,200 rpm - SAE J1995

182HP

Engine Power - Maximum - At 2,200 rpm - ISO 14396

178HP

Engine Power - Maximum - At 2,200 rpm - ISO 14396 (DIN)

180HP

Weights

Operating Weight

36943lb

Operating Weight – XL

36943lb

Operating Weight – LGP

40446lb

Shipping Weight – LGP

39339lb

LGP VPAT - Blade

2720lb

LGP VPAT - Foldable

3287lb

LGP VPAT - Landfill

3166lb

Multi-Shank Ripper - With 3 Shanks

2959lb

XL SU - Blade

5732lb

XL VPAT Blade

2341lb

XL VPAT Foldable

2762lb

XL VPAT Landfill

2912lb

Shipping Weight - XL

36153lb

Operating Weight

36943lb

Operating Weight - LGP

40446lb

Operating Weight - XL

36943lb

Shipping Weight - LGP

39339lb

Note (1)

Operating Weight: Includes EROPS, A/C, lights, VPAT dozer, transmission, drawbar, engine enclosure, 3-valve hydraulics, 100% fuel, and Cat Comfort Series Air Suspension Seat and operator.

Note (2)

Shipping Weight: Includes EROPS, A/C, lights, VPAT dozer, transmission, drawbar, engine enclosure, 3-valve hydraulics, 5% fuel, and Cat Comfort Series Air Suspension Seat.

Operating Weight - LGP Waste Handler

44749lb

Operating Weight - XL Fine Grading

38162lb

Operating Weight - XL Waste Handler

40818lb

Shipping Weight - LGP Waste Handler

43642lb

Shipping Weight - XL Fine Grading

37373lb

Shipping Weight - XL Waste Handler

40029lb

Blades

Note

*For Europe only; Width is with end bits removed; Blade width with end bits is 3126 mm (10 ft).

Width: XL SU – Narrow*

9.83ft

Capacity - LGP VPAT

5.1yd³

Width - LGP VPAT - Foldable

13.42ft

Capacity - XL SU

5.6yd³

Width - XL SU

10.33ft

Capacity - XL VPAT

4.3yd³

Width - XL VPAT

10.75ft

Capacity - LGP VPAT - Foldable

5.1yd³

Width - LGP VPAT

13.42ft

Transmission

1.0 Forward

2.1mph

1.5 Forward

2.7mph

1.7 Forward

3.0mph

2.0 Forward

3.6mph

2.5 Forward

4.7mph

2.7 Forward

5.2mph

3.0 Forward

6.1mph

0.5 Reverse

1.9mph

1.5 Forward

2.7mile/h

0.5 Forward (EU)

1.5mile/h

2.5 Forward

4.7mile/h

0.7 Forward (EU)

1.6mile/h

1.5 Reverse

3.4mile/h

1.0 Forward

2.1mile/h

2.0 Forward

3.6mile/h

3.0 Forward

6.1mile/h

0.5 Forward

1.6mile/h

0.5 Reverse

1.9mile/h

0.7 Forward

1.7mile/h

1.0 Forward (EU)

1.9mile/h

1.7 Forward

3mile/h

2.7 Forward

5.2mile/h

1.0 Reverse

2.5mile/h

2.0 Reverse

4.4mile/h

2.5 Reverse

5.9mile/h

3.0 Reverse

7.6mile/h

0.5 Reverse (EU)

1.8mile/h

0.7 Reverse

2.1mph

0.7 Reverse (EU)

1.9mile/h

1.0 Reverse

2.5mph

0.7 Reverse

2.1mile/h

1.0 Reverse (EU)

2.2mile/h

1.7 Reverse

3.7mile/h

1.5 Reverse

3.4mph

2.7 Reverse

6.5mile/h

1.7 Reverse

3.7mph

2.0 Reverse

4.4mph

2.5 Reverse

5.9mph

2.7 Reverse

6.5mph

3.0 Reverse

7.6mph

Maximum Drawbar Pull - 1.0 Forward

71939lbf

Maximum Drawbar Pull - 2.0 Forward

44512lbf

Maximum Drawbar Pull - 3.0 Forward

25403lbf

Undercarriage

Shoe Width – XL

24.0in

Shoe Width – LGP

33.1in

Track Gauge – XL

74.4in

Track Gauge – LGP

85.0in

Note

*ISO 16754

Shoes/Side - XL

40

Shoes/Side - LGP

46

Track on Ground - XL

102.6in

Track on Ground - LGP

122.4in

Ground Contact Area* - XL

5518in²

Ground Contact Area* - LGP

8928in²

Track Rollers/Side - XL

7

Track Rollers/Side - LGP

8

Ground Pressure - XL*

6.7psi

Ground Pressure - LGP*

4.5psi

Grouser Height - XL

2.6in

Grouser Height - LGP

2.2in

Note (1)

*ISO 16754

Shoe Width - LGP

33.1in

Shoe Width - XL

24in

Track Gauge - LGP

85in

Track Gauge - XL

74.4in

Ground Contact Area* - XL - Fine Grading

6479in²

Ground Pressure* - XL - Fine Grading

5.8psi

Grouser Height - XL - Fine Grading

2.6in

Note (2)

All dimensions with SystemOne undercarriage.

Shoe Width - XL - Fine Grading

24in

Shoes/Side - XL - Fine Grading

46

Track Gauge - XL - Fine Grading

74.4in

Track Rollers/Side - XL - Fine Grading

8

Note

All dimensions with SystemOne undercarriage.

Track on Ground - XL - Fine Grading

122.4in

Service Refill Capacities

Fuel Tank

73.2gal

Cooling System

10.6gal

Final Drives (each)

1.8gal

Hydraulic Tank

7.8gal

Fuel Tank

73.2gal (US)

Cooling System

10.6gal (US)

Final Drive - Each

1.8gal (US)

Hydraulic Tank

7.8gal (US)

Engine Crankcase

4.5gal (US)

Power Train

42.3gal (US)

DEF Tank

5gal

Engine Crankcase

4.5gal

Power Train

42.3gal

Roller Frames XL/LGP - Each

20/17.5 L (4.3/4.6 gal)

DEF Tank

5gal (US)

Ripper

Pocket Spacing

3.3ft

Shank Gauge

6.6ft

Shank Section

73 mm × 176 mm (2.9 in × 6.9 in)

Weight with Three Shanks

3444lb

Type

Fixed Parallelogram

Overall Beam Width

86.7in

Each Additional Shank

172lb

Maximum Clearance Raised - Shank Tip

24.5in

Maximum Penetration Force - LGP

9667lbf

Maximum Penetration Force - XL

11600lbf

Maximum Pry-out Force - LGP

38217lbf

Maximum Pry-out Force - XL

47480lbf

Number of Pockets

3

Pocket Spacing

3.3ft

Shank Gauge

6.6ft

Beam Cross Section

216 mm × 254 mm (8.5 in × 10.0 in)

Shank Section

73 mm × 176 mm (2.9 in × 6.9 in)

Maximum Penetration - XL

20.2in

Weight - With Three Shanks

3444lb

Maximum Penetration - LGP

15.6in

Type

Fixed Parallelogram

Overall Beam Width

86.7in

Winch

Cable Ferrule Size (O.D. × Length)

54 mm × 67 mm (2.13 in × 2.63 in)

Control

Electric

Maximum Bare Drum – Line Speed

141ft/min

Maximum Full Drum – Line Speed

217ft/min

Overall Width

38.4in

Rope Diameter (recommended)

0.875in

Winch Drive

Mechanical

Winch Case Width

38.4in

Drum Diameter

10in

Drum Width

12.4in

Cable Ferrule Size - O.D. × Length

54 mm × 67 mm (2.13 in × 2.63 in)

Maximum Bare Drum - Line Pull*

69200lb

Control

Electric

Maximum Bare Drum - Line Speed

141ft/min

Maximum Full Drum - Line Pull*

44410lb

Maximum Full Drum - Line Speed

217ft/min

Overall Width

38.4in

Rope Diameter - Recommended

0.875in

Winch Case - Width

38.4in

Winch Drive

Mechanical

Winch Model

PA55

Drum Diameter

10in

Weight*

2814lb

Drum Width

12.4in

Note (1)

*Weight: Includes pump, operator controls, oil, mounting brackets and spacers.

Oil Capacity

19.55gal (US)

Winch and Bracket Length

45.1in

Flange Diameter

19.8in

Drum Capacity - 22 mm (0.88 in)

288.75ft

Note (2)

Slow and standard speed winches are available.

Standards

FOPS

FOPS (Falling Object Protective Structure) meets ISO 3449-2005 Level II.

ROPS

ROPS (Rollover Protective Structure) offered by Caterpillar for the machine meets ROPS criteria ISO 3471:2008.

Brakes

Brakes meet the standard ISO 10265:2008.

FOPS

FOPS (Falling Object Protective Structure) meets ISO 3449-2005 Level II.

ROPS

ROPS (Rollover Protective Structure) offered by Caterpillar for the machine meets ROPS criteria ISO 3471:2008.

Brakes

Brakes meet the standard ISO 10265:2008.

Sustainability - Sound and Vibration Levels

Note

*Values are for an experienced operator in a dozing application, consult the Operating and Maintenance Manual for details.

Sound Levels - Average Exterior Sound Pressure Level - SAE J88:2006

85.5dB(A)

Sound Levels - Maximum Sound Power Level - 2000/14/EC

110dB(A)

Sound Levels - Dynamic Operator Sound Pressure Level (LpA) - ISO 6396:2008

76dB(A)

Vibration Levels - Maximum Hand/Arm* - ISO 5349:2001

2.5 m/s2 (8.2 ft/s2)

Vibration Levels - Maximum Whole Body* - ISO/TR25398:2006

0.5 m/s2 (1.6 ft/s2)

Vibration Levels - Seat Transmissibility Factor - ISO 7096:2000 - Spectral Class EM6

Less Than 0.7

Air Conditioning System

Air Conditioning

The air conditioning system on this machine contains the fluorinated greenhouse gas refrigerant R134a (Global Warming Potential = 1430). The system contains 1.6 kg of refrigerant which has a CO2 equivalent of 2.288 metric tonnes.

Hydraulic Controls - Pump

Angle Cylinder Flow - VPAT

33.5gal/min

Lift Cylinder Flow

33.5gal/min

Pump Output - Implement

33.5gal/min

Pump Output - Steering

36.2gal/min

Ripper Cylinder Flow

33.5gal/min

Tilt Cylinder Flow

23.8gal/min

Hydraulic Controls - Pressures

Maximum Implement Operating Pressure

3640psi

Maximum Steering Operating Pressure

6556psi

Hydraulic Controls – Pump

Pump Output – Implement

33.5gal/min

Pump Output – Steering

36.2gal/min

Lift Cylinder Flow

33.5gal/min

Tilt Cylinder Flow

23.8gal/min

Ripper Cylinder Flow

33.5gal/min

Angle Cylinder Flow – VPAT

33.5gal/min

Sound and Vibration - Cab

Sound Level Information (1)

The operator Equivalent Sound Pressure Level (Leq) is 81.5 dB(A) when "ANSI/SAE J1166 FEB2008" is used to measure the value for an enclosed cab. The measurement was conducted at 100% of the maximum engine cooling fan speed. This is a work cycle sound expo

Sound Level Information (2)

Hearing protection may be needed when the machine is operated with an open operator station for extended periods or in a noisy environment. Hearing protection may be needed when the machine is operated with a cab that is not properly maintained, or when t

Sound Level Information (3)

The average exterior sound pressure level is 85.5 dB(A) when the "SAE J88 FEB2006 – Constant Speed Moving Test" procedure is used to measure the value for the standard machine. The measurement was conducted under the following conditions: distance of 15 m

Sound Level Information for Machines in European Union Countries and in Countries that Adopt the "EU Directives." The information below applies to only the machine configurations that have the "CE" mark on the Product Identification Plate. (1)

The declared dynamic operator sound pressure level is 76 dB(A) when "ISO 6396:2008" is used to measure the value for an enclosed cab. The measurement was conducted at 70% of the maximum engine cooling fan speed. The sound level may vary at different engin

Sound Level Information for Machines in European Union Countries and in Countries that Adopt the "EU Directives." The information below applies to only the machine configurations that have the "CE" mark on the Product Identification Plate. (2)

If equipped, the certification label – 110 dB(A) – is used to verify the environmental sound certification of the machine to the requirements of the European Union. The value that is listed on the label indicates the guaranteed exterior sound power level
Equipment
Power Train

C7.1 Cat ACERT Diesel Engine
Tier 4 Final/Stage IV/Korea Tier 4 Final Certified Engine with Aftertreatment (DPF and SCR)
Diesel Exhaust Fluid
Single Poly-Vee Belt with Auto Belt Tensioner
Glowplug Starting Aid
3000 Meter Altitude Operation Capability without De-Rating
Engine Driven, Viscous Clutch Fan (variable controlled fan speed)
Aluminum Bar Plate Cooling Systems (radiator, power train, aftercooler, differential steering)
Air Cleaner, Integrated Precleaner with Dust Ejector
Electrical Lift/Priming Pump
3 Speed Planetary, Powershift Transmission with Lock-Up Clutch Torque Converter
Enhanced Auto Shift (EAS)
Infinite Ground Speed Adjustment (GSA)
Shift Management: – Automatic Directional and Downshift – Controlled Throttle, Load Compensated
Programmable/Selectable Bi-Directional Shifting
Differential Steering
Engine Idle Shutdown
Auto Engine Speed Control
Extended Life Coolant

Undercarriage

Heavy Duty Undercarriage
Center Tread Idler
Lifetime Lubricated Track Rollers (7 XL and 8 LGP) and Idlers
Carrier Rollers
Tracks 40 Section – 610 mm (24 in)
Extreme Service for XL
Tracks 46 Section – 840 mm (33 in)
Moderate Service for LGP
Hydraulic Track Adjusters
Center Track Guiding Guard (LGP only)

Hydraulics

Three Valve-Hydraulics for VPAT Dozer
Load Sensing Hydraulics

Electrical

Horn
Back-up Alarm
12V Converter, 10A
Diagnostic Connector
950 CCA Class 31 Batteries
Integrated Lights (four front, two rear)
105 AMP HD Brushless Alternator 24 Volt
24V Electric Starter
Ground Level Service Center with Remote Electrical Disconnect, Hour Meter and Remote Light Switch

Operator Environment

ROPS/FOPS Cab
Integrated A/C with Automatic Temperature Control
Seat, Air Suspension, Cloth for Cab
Seat Belt, Retractable – 76 mm (3 in)
Adjustable Armrests
Foot Rests for Slope Work
Color Graphic 7 in (178 mm) Display
Power Train Control Module (Throttle Dial, Electronic, Enhanced Auto Shift [EAS] Control and Shift Management Dial)
Electronic Engine Air Cleaner Service Indicator
Electronic Water-In-Fuel Sensor Service Indicator
Electro-Hydraulic Implement and Differential Steering Controls
One 12V Power Ports
Intermittent Wiper
12V Radio Ready (Plug and Play)
Storage Compartment
Cup Holder
Coat Hook
Rearview Mirror
Glove Box

Technology Products

Cat GRADE with Slope Assist
Cat Slope Indicate
Cat Stable Blade
Product Link

Other Standard Equipment

Shovel Fastener
CD ROM Parts Book
C-Frame, Cylinders (VPAT) and Lines
Extended Service Intervals (500 hours engine, 1,000 hours power train)
Guards, Hinged Bottom
Ecology Drains (engine oil, engine coolant, power train case, hydraulic)
Adjustable Pitch Link (VPAT)
Engine Enclosures, Perforated
Scheduled Oil Sampling Ports
Centralized Remote Mounted Pressure Taps
Front Pull Device
Hinged Radiator Louvered Grill
Lockable Engine Enclosures
Power Train

Precleaner, Turbine with Screen

Undercarriage

XL – SystemOne
XL – Heavy Duty
XL – Heavy Duty with Double Flange
XL – SystemOne Fine Grading
XL – Heavy Duty Fine Grading
LGP – SystemOne
LGP – Heavy Duty
LGP – Heavy Duty with Double Flange
LGP – Super LGP
XL – Heavy Duty – Waste
LGP – Heavy Duty – Waste

Tracks

Track Pairs, XL, SystemOne (40 sections): – 610 mm (24 in), Extreme Service – 560 mm (22 in), Extreme Service – 610 mm (24 in), Moderate Service (46 sections)
Track Pairs, XL, Heavy Duty (40 sections): – 600 mm (24 in), Extreme Service – 600 mm (24 in), Moderate Service (46 sections) – 600 mm (24 in) Extreme Service, Center Hole
Track Pairs, LGP, SystemOne (46 sections): – 840 mm (33 in), Moderate Service – 840 mm (33 in), Extreme Service – 860 mm (34 in), Extreme Service
Track Pairs, LGP, Heavy Duty (46 sections): – 600 mm (24 in), Extreme Service – 840 mm (33 in), Extreme Service – 840 mm (33 in), Extreme Service, Center Hole – 860 mm (34 in), Extreme Service
Track Pairs, Super LGP, Heavy Duty (52 sections): – 1067 mm (42 in), HD Self Cleaning – 1067 mm (42 in), HD Double Grouser

Track Guiding Guards

XL, SystemOne: – Guard Guiding, Center – Guard Guiding, Front and Rear – Guard Guiding, Full
XL, Heavy Duty: – Guard Guiding, Center – Guard Guiding, Extreme Service, Full
LGP, SystemOne: – Guard Guiding, Center – Guard Guiding, Front and Rear – Guard Guiding, Full
LGP, Heavy Duty: – Guard Guiding, Center – Guard Guiding, Extreme Service, Full

Rear Control Packages

Ripper Ready Package
Winch Ready Package
Dual Control Package (SU, VPAT, Super LGP)

Fan And Cooling

Radiator, Trash Resistant
Direct Drive Fan, Reversible
Direct Drive Fan with Hydraulically Reversible Blades

Weather Packages And Batteries

Battery, Standard, Package
Battery, Heavy Duty, Package
Cold Weather, 120V, Package

Technology Products

Cat AccuGrade
Cat Grade with 3D
ARO Installation
No ARO Installation
Product Link: – Product Link, Satellite PLE 631 – Product Link, Cellular PLE 641 – No Product Link

Fuel Systems

Fuel Tank, Standard
Fuel Tank, Fast Fill and Refill Ready

Guards

Guard Packages: – Guard, VPAT, Standard, Package – Guard, VPAT, Heavy Duty, Package – Guard, SU, Heavy Duty, Package – Guard, Rear, Standard – Guard, Rear, Heavy Duty – No Guard

Rear Attachments

Ripper, Teeth Straight, Package
Ripper, Teeth Curved, Package
PA55 Winch, Standard Speed Package
PA55 Winch, Slow Speed, Package
Drawbar
Rear Box with Striker Bar
No Rear Attachment

Rear Hydraulics

PTO Filter, No Winch
PTO Filter, Winch

Bulldozer Packages

Bulldozer, VPAT XL, STD Package
Bulldozer, VPAT LGP, STD Package
Bulldozer, VPAT XL, HD Package
Bulldozer, VPAT, LGP, HD Package
Bulldozer, VPAT XL, GRADE with 3D
Bulldozer, VPAT, LGP, GRADE with 3D
Bulldozer, SU XL Package
Bulldozer Super LGP

Blades

Blade, ARO XL, VPAT
Blade, ARO LGP, VPAT
Blade, ARO XL Foldable, VPAT
Blade, ARO LGP Foldable, VPAT
Blade, Landfill (XL or LGP)
Blade, Super LGP
Blade, SU XL
No Blade

Lights

Lights
Forestry Lights
GRADE with 3D Lights

Operator Environment

Cab Packages: – Standard with Air Suspension Seat – Cab Comfort Package with Air Suspension/Heated/Ventilated Seat – Cab Comfort Package – Heavy Duty
Camera Arrangement
Radio, AM/FM/AUX/USB/Bluetooth™

Hydraulic Oil

Hydraulic Oil, Biodegradable

Starters, Batteries, And Alternators

Electrical Insulated Breather
Beacon, Rotating

Guards – Cab Protection

Cab, Protection Package
Screen, Rear
Screen, Grill Front
Grid, Sandblast
Guard, Rear, Drawbar and Winch Ready

Fluids

Antifreeze, (–37° C/–34.6° F)

Other Attachments

Winch Options: – Fairlead, 3 Rollers – Fairlead, 4 Rollers

Maintenance And Related Attachments

Shovel Holder
Refilling Fuel Pump
Oil Change System, High Speed

Special Arrangements

Forestry Package (XL or LGP)
Waste Handler (XL or LGP)
Find a Boyd CAT

Location

or

Rep

Near You
BOYD CAT USED PARTS - offering discontinued, rebuilds, out of stock, and CAT bargain list and aftermarket. Save money. Buy used. Used_Parts@BoydCAT.com
X