Cat Dozers:
D6T WH Waste Handling Dozer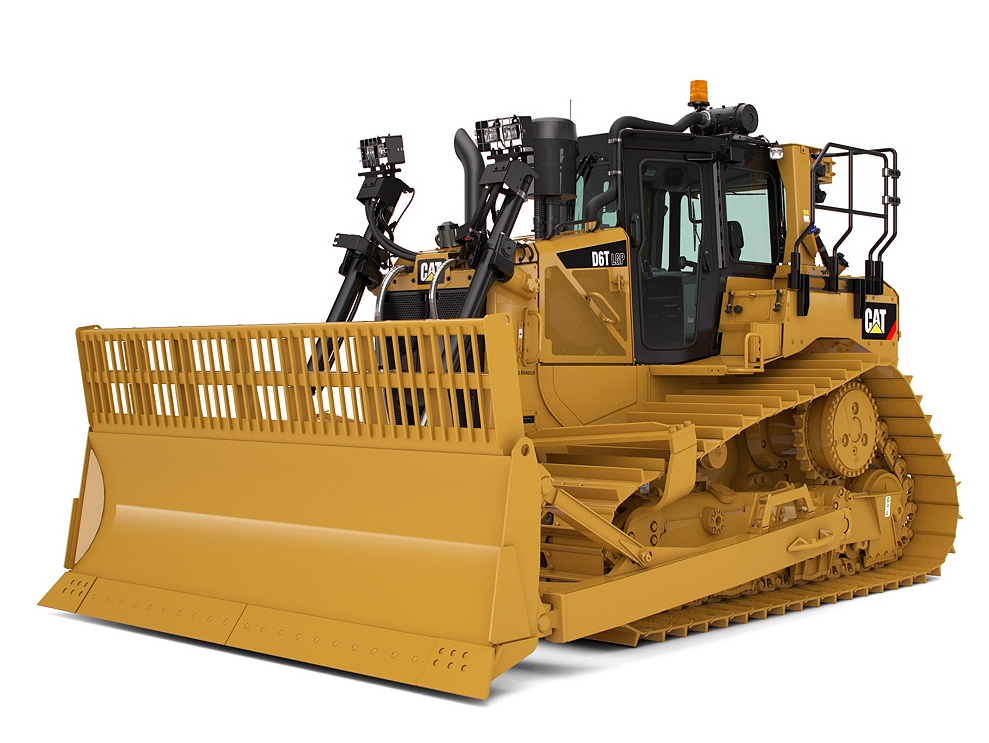 Displacement

567.5 in³

Build Number

19

Emissions

U.S. EPA Tier 4 Final/EU Stage IV/Korea Tier 4 Final

Net Power - 2,200 rpm - ISO 9249/SAE J1349

215 HP
The new D6T dozer makes high efficiency dozing easy. A smooth-shifting, fully automatic four-speed Cat® transmission continuously optimizes the power train for the application. You save a significant amount of fuel and operator effort, without sacrificing durability, power or productivity. Specialized guarding and durability features are designed and factory installed to take on the demands of waste applications.
---
---
Product Specs
Engine

Displacement

567.5in³

Build Number

19

Emissions

U.S. EPA Tier 4 Final/EU Stage IV/Korea Tier 4 Final

Net Power - 2,200 rpm - ISO 9249/SAE J1349

215HP

Net Power - 2,200 rpm - ISO 9249/SAE J1349 (DIN)

218HP

Net Power - Maximum - ISO 9249/SAE J1349 (DIN) at 1,200 rpm

248HP

Net Power - Maximum - ISO 9249/SAE J1349 at 1,200 rpm

245HP

Note (1)

All non-road Tier 4 Interim and Final, Stage IIIB and IV, and Korea Tier 4 diesel engines are required to use only Ultra Low Sulfur Diesel (ULSD) fuels containing 15 ppm EPA/10 ppm EU (mg/kg) sulfur or less. Biodiesel blends up to B20 (20% blend by volume

Note (2)

Diesel Exhaust Fluid (DEF) used in Cat Selective Catalytic Reduction (SCR) systems must meet the requirements outlined in the International Organization for Standardization (ISO) standard 22241.

Note (3)

The air conditioning system on this machine contains the fluorinated greenhouse gas refrigerant R134a (Global Warming Potential = 1430). The system contains 1.8 kg of refrigerant which has a CO2 equivalent of 2.574 metric tonnes.

Engine Model

Cat C9.3 ACERT™

Flywheel Power

245HP

Features

Note

For complete machine features and available configurations, please consult your Cat dealer or visit www.cat.com.

Weights

Operating Weight

56063lb

Operating Weights

LGP S

56063lb

LGP VPAT

59204lb

Note

Operating Weight – ISO 16754

XL SU

51652lb

XW SU

53423lb

XW VPAT

58723lb

Dimensions

LGP - Ground Clearance

16in

LGP - Ground Pressure (ISO 16754)

5.57psi

LGP - Length of Basic Tractor with Striker Bars

17.25ft

LGP - Length of Track on Ground

10.67ft

LGP - Machine Height to Top of Precleaner

11.58ft

LGP - Width of Tractor without Trunnions

10.5ft

LGP VPAT - Ground Clearance

16in

LGP VPAT - Ground Pressure (ISO 16754)

6.81psi

LGP VPAT - Length of Basic Tractor with Striker Bars

19.08ft

LGP VPAT - Length of Track on Ground

10.67ft

LGP VPAT - Machine Height to Top of Precleaner

11.58ft

LGP VPAT - Width of Tractor without Trunnions

10.33ft

Note (1)

Add 653 mm (25.7 in)/615 mm (24.2 in) for ripper on short track roller frame and long track roller frame machines respectively.

Note (2)

Add if blade is installed: SU 1068 mm (3 ft 6 in); XL A 1007 mm (3 ft 4 in); XW A 1068 mm (3 ft 6 in); LGP A 1305 mm (4 ft 4 in); VPAT 420 mm (1 ft 5 in). Dimension to subtract if striker box is not installed: XL = 727 mm (29 in); LGP = 709 mm (28 in).

XL - Ground Clearance

15in

XL - Ground Pressure - ISO 16754

9.52psi

XL - Length of Basic Tractor with Striker Bars

16.25ft

XL - Length of Track on Ground

9.25ft

XL - Machine Height to Top of Precleaner

11.42ft

XL - Width of Tractor - Without Trunnions

8ft

XW - Ground Clearance

15in

XW - Ground Pressure - ISO 16754

7.26psi

XW - Length of Basic Tractor with Striker Bars

16.25ft

XW - Length of Track on Ground

9.25ft

XW - Machine Height to Top of Precleaner

11.42ft

XW - Width of Tractor - Without Trunnions

9.17ft

XW VPAT - Ground Clearance

16in

XW VPAT - Ground Pressure - ISO 16754

7.5psi

XW VPAT - Length of Basic Tractor with Striker Bars

19.08ft

XW VPAT - Length of Track on Ground

10.67ft

XW VPAT - Machine Height to Top of Precleaner

11.58ft

XW VPAT - Width of Tractor - Without Trunnions

9.83ft

Landfill Blades - Capacity

6 SU - XL Landfill

14.4yd³

6 SU - XW Landfill

15.84yd³

6S LGP Landfill

12.33yd³

Landfill Blades - Width

6 SU - XL Landfill

10.7ft

6 SU - XW Landfill

11.7ft

6S LGP Landfill

13.3ft
Find a Boyd CAT

Location

or

Rep

Near You
BOYD CAT USED PARTS - offering discontinued, rebuilds, out of stock, and CAT bargain list and aftermarket. Save money. Buy used. Used_Parts@BoydCAT.com
X