M Series Motor Graders:
120M2/120M2 AWD Motor Grader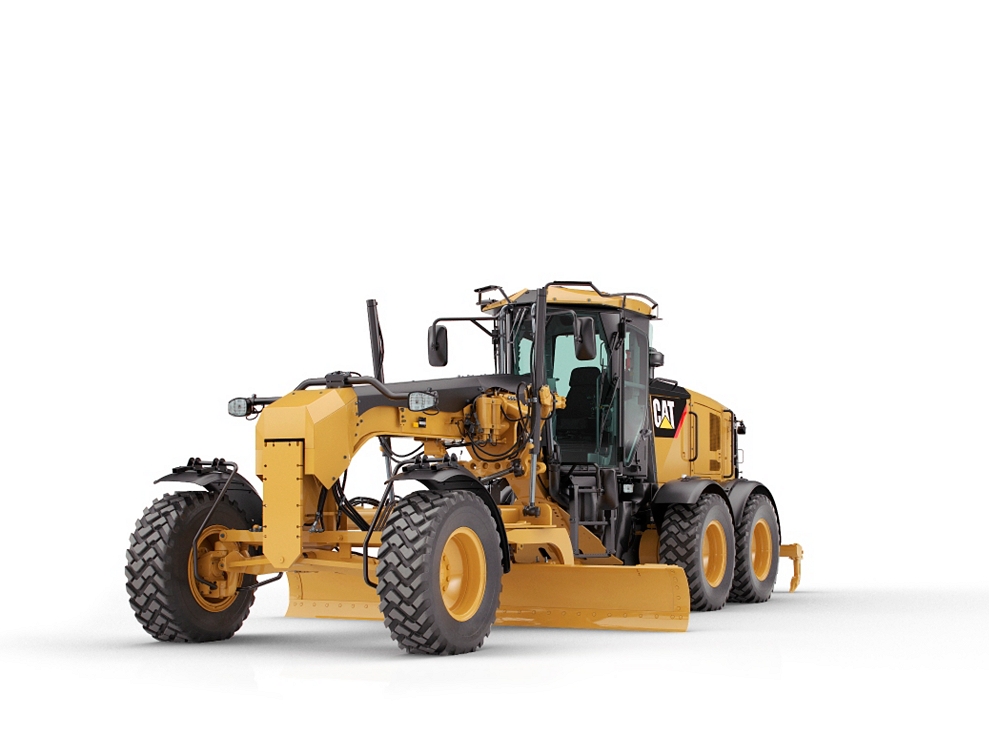 Engine Model

Cat® C7.1 ACERT™

Gross Vehicle Weight - Maximum - Front Axle

15675.0 lb

Gross Vehicle Weight - Maximum - Rear Axle

33312.0 lb

Operating Weight, Typically Equipped - Front Axle

10563.0 lb
The M Series 2 continues the legacy of quality already established by Cat Motor Graders. The extensive validation program, combined with improvements to the manufacturing process, allows Caterpillar to further enhance our quality. The end result of this development process is a motor grader line with breakthrough technologies, tested in the field and built around real applications and real customer needs. M Series 2 Motor Graders meet Tier 4 Interim/Stage IIIB equivalent emission standards.
---
---
Product Specs
Engine

Engine Model

Cat® C7.1 ACERT™

Bore

4.13in

Stroke

5.31in

Base Power (all gears) - Net

145.0hp

Emissions

Tier 4 Interim/Stage IIIB equivalent

Hi Ambient - Fan Speed - Standard

1,000 rpm

Maximum Torque

693.0lbf-ft

Standard Capability

109.0° F

Torque Rise

45%

VHP Plus Range - Net

108-141 kW (145-189 hp)

VHP Plus Range - Net (metric)

108-141 kW (147-192 hp)

Displacement

428.0in3

Number of Cylinders

6

Derating Altitude

10000.0ft

High Ambient - Fan Speed - Maximum

1,350 rpm

High Ambient - Fan Speed - Minimum

500 rpm

High Ambient Capability

122.0° F

Engine Model

Cat® C7.1 ACERT™

Bore

4.13in

Stroke

5.31in

Base Power (All Gears) - Net

145HP

Emissions

Tier 4 Interim/Stage IIIB equivalent

High Ambient - Fan Speed - Standard

1,000 rpm

Maximum Torque

693lb/ft

Standard Capability

109°F

Torque Rise

45%

VHP Plus Range - Net

108-141 kW (145-189 hp)

VHP Plus Range - Net - Metric

108-141 kW (147-192 hp)

Displacement

428in³

Number of Cylinders

6

Derating Altitude

10000ft

High Ambient - Fan Speed - Maximum

1,350 rpm

High Ambient - Fan Speed - Minimum

500 rpm

High - Ambient Capability

122°F

Base Power (1st Gear) - Net

145HP

Speed at Rated Power

2,100 rpm

Base Power (1st Gear) - Net - Metric

147HP

VHP Plus - Gear 1F, Net

145HP

VHP Plus - Gear 2F, Net

153HP

VHP Plus - Gear 3F, Net

161HP

VHP Plus - Gear 4F, Net

169HP

VHP Plus - Gear 5F, Net

174HP

VHP Plus - Gear 6F, Net

179HP

VHP Plus - Gear 7F, Net

184HP

VHP Plus - Gear 8F, Net

189HP

Weights

Gross Vehicle Weight - Maximum - Front Axle

15675.0lb

Gross Vehicle Weight - Maximum - Rear Axle

33312.0lb

Operating Weight, Typically Equipped - Front Axle

10563.0lb

Operating Weight, Typically Equipped - Rear Axle

29329.0lb

Gross Vehicle Weight - Base - Front Axle

8651.0lb

Gross Vehicle Weight - Base - Rear Axle

26374.0lb

Gross Vehicle Weight - Maximum - Total

48987.0lb

Gross Vehicle Weight - Base - Total

35025.0lb

Operating Weight, Typically Equipped - Total

39892.0lb

Gross Vehicle Weight - Maximum - Rear Axle

33312lb

Gross Vehicle Weight - Base - Front Axle

8651lb

Gross Vehicle Weight - Base - Rear Axle

26374lb

Gross Vehicle Weight - Maximum - Total

48987lb

Gross Vehicle Weight - Base - Total

35025lb

Gross Vehicle Weight - Maximum - Front Axle

15675lb

Operating Weight - Typically Equipped - Front Axle

10563lb

Operating Weight - Typically Equipped - Rear Axle

29329lb

Operating Weight - Typically Equipped - Total

39892lb

Operating Weight - Typically Equipped

39892lb

Power Train

Brakes - Service, Surface Area

3565.0in2

Brakes - Service - Surface Area

3565in²

Forward/Reverse Gears

8 Forward/6 Reverse

Transmission

Direct Drive, Powershift

Brakes - Service

Multiple Oil Disc

Brakes - Parking

Multiple Oil Disc

Brakes - Secondary

Dual Circuit

Hydraulic System

Pump Output

55.7gal/min

Standby Pressure

609.0psi

Pump Output

55.7gal/min

Reservoir Tank Capacity

15.85gal (US)

Circuit Type

Parallel

Pump Type

Variable Piston

Maximum System Pressure

3500psi

Standby Pressure

609psi

Moldboard

Moldboard - Height

24.0in

Moldboard - Thickness

0.87in

Blade Pull - Base GVW

23737.0lb

Blade Pull - Maximum GVW

29980.0lb

Blade Down Pressure - Base GVW

15030.0lb

Blade Down Pressure - Maximum GVW

27235.0lb

Moldboard - Height

24in

Moldboard - Thickness

0.87in

Blade Pull - Base GVW

23737lb

Blade Pull - Maximum GVW

29980lb

Blade Down Pressure - Base GVW

15030lb

Blade Down Pressure - Maximum GVW

27235lb

Blade Width

12ft

Arc Radius

16.3in

Throat Clearance

4.9in

Cutting Edge Width

6in

Cutting Edge Thickness

0.6in

End Bit - Width

6in

End Bit - Thickness

0.6in

Scarifier

Mid, V-Type - Scarifying Depth, Maximum

11.5in

Mid, V-Type - Working Width

46.6in

Mid, V-Type - Scarifier Shank Holder Spacing

4.6in

Mid, V-Type - Scarifier Shank Holder Spacing

4.6in

Mid, V-Type - Scarifying Depth, Maximum

11.5in

Mid, V-Type - Working Width

46.6in

Front, V-Type, 5 or 11 Tooth - Scarifier Shank Holder Spacing

4.6in

Front, V-Type, 5 or 11 Tooth - Scarifier Shank Holders

5/11

Front, V-Type, 5 or 11 Tooth - Scarifying Depth, Maximum

18.4in

Front, V-Type, 5 or 11 Tooth - Working Width

40.6in

Front, V-Type - Working Width

47.4in

Mid, Straight - Ripping Depth, Maximum

12.5in

Mid, Straight - Scarifier Shank Holder Spacing

4.4in

Mid, Straight - Scarifier Shank Holders

17

Mid, Straight - Scarifying Depth, Maximum

16.8in

Mid, Straight - Working Width

71in

Mid, V-Type - Scarifier Shank Holders

11

Ripper

Ripper Shank Holder Spacing

21.0in

Ripping Depth - Maximum

8.9in

Ripper Shank Holders

5

Penetration Force

17692lb

Pry-Out Force

5660lb

Machine Length Increase, Beam Raised

41.5in

Ripper Shank Holder Spacing

21in

Frame

Drawbar - Thickness

0.4in

Front-Top/Bottom Plate - Width

10.0in

Front-Top/Bottom Plate - Thickness

0.87in

Front Axle - Wheel Lean, Left/Right

18°

Drawbar - Thickness

0.4in

Front-Top/Bottom Plate - Width

10in

Front-Top/Bottom Plate - Thickness

0.87in

Front Axle - Wheel Lean - Left/Right

18°

Drawbar - Width

3in

Circle - Diameter

60.2in

Circle - Blade Beam Thickness

1.4in

Drawbar - Height

6in

Front Frame Structure - Height

11in

Front Frame Structure - Width

8in

Front Axle - Height to Center

22.5in

Front Axle - Total Oscillation per Side

32°

Service Refill

Transmission/Differential/Final Drives

16.5gal

Transmission - Differential - Final Drives

16.5gal (US)

Fuel Capacity

100gal (US)

Cooling System

12.9gal (US)

Hydraulic System - Tank

16.9gal (US)

Engine Oil

7.9gal (US)

Tandem Housing - Each

15.6gal (US)

Front Wheel Spindle Bearing Housing

0.13gal (US)

Circle Drive Housing

1.8gal (US)

Tandems

Height

19.8in

Width

6.8in

Sidewall Thickness - Inner

0.5in

Sidewall Thickness - Outer

0.6in

Drive Chain Pitch

1.8in

Wheel Axle Spacing

59.5in

Tandem Oscillation - Front Up

15°

Tandem Oscillation - Front Down

25°

Emissions

Note

U.S. EPA Tier 4 Interim/EU Stage IIIB equivalent

Tires

17.5 R25 Tire (14x25 Rim) Dimension Adjustments - Height to Dimensions 1, 2, 8, 9, 10

-0.8in

17.5 R25 Tire (14x25 Rim) Dimension Adjustments - Length Front Tire to Rear of Machine Dimension 6

-0.6in

17.5 R25 Tire (14x25 Rim) Dimension Adjustments - Width to Tire Centerline Dimension 11

4.1in

17.5 R25 Tire (14x25 Rim) Dimension Adjustments - Width to Tire Front/Rear Tires Dimensions 12, 13

7.6in

Note

Dimension changes may vary by brand/type and inflation of tires.

Note

Dimension changes may vary by brand/type and inflation of tires.

Air Conditioning System

Air Conditioning

The air conditioning system on this machine contains the fluorinated greenhouse gas refrigerant R134a (Global Warming Potential = 1430). The system contains 1.6 kg of refrigerant which has a CO2 equivalent of 2.88 metric tonnes.

Operating Specifications

Top Speed - Forward

28.4mile/h

Top Speed - Reverse

22.4mile/h

Turning Radius - Outside Front Tires

24.3ft

Steering Range - Left/Right

47.5°

Articulation Angle - Left/Right

20°

Forward - 1st

2.5mile/h

Forward - 2nd

3.4mile/h

Forward - 3rd

4.9mile/h

Forward - 4th

6.7mile/h

Forward - 5th

10.4mile/h

Forward - 6th

14.2mile/h

Forward - 7th

19.5mile/h

Forward - 8th

28.4mile/h

Reverse - 1st

1.9mile/h

Reverse - 2nd

3.9mile/h

Reverse - 3rd

5.3mile/h

Reverse - 4th

8.2mile/h

Reverse - 5th

15.4mile/h

Reverse - 6th

22.4mile/h

Blade Range

Circle Centershift - Right

25.8in

Circle Centershift - Left

25.8in

Moldboard Sideshift - Right

26in

Moldboard Sideshift - Left

20.1in

Maximum Blade Position Angle

90°

Blade Tip Range - Forward

40°

Blade Tip Range - Backward

5°

Maximum Shoulder Reach Outside of Tires - Right

75in

Maximum Shoulder Reach Outside of Tires - Left

68.6in

Maximum Lift Above Ground

16.8in

Maximum Depth of Cut

28.3in

Standards

Brakes

ISO 3450

ROPS/FOPS

ISO 3471/ISO 3449

Sound

ISO 6394; ISO 6395

Steering

ISO 5010
Equipment
Power Train

Air cleaner, dual stage, dry type, diesel, with automatic engine derate and automatic dust ejector, service indicator through Cat Messenger
Air-to-air after cooler (ATAAC)
Belt, serpentine, automatic tensioner
Brakes, oil disc, four-wheel, hydraulic
Demand fan, hydraulic, swing-out
Differential lock/unlock, automatic
Drain, engine oil, ecology
Electronic over speed protection
Engine, C7.1 with ACERT Technology, Tier 4 Interim and Stage IIIB equivalent emission standards
Fuel tank, 378 L (100 gal), ground level access and sediment drain
Parking brake – multi-disc, sealed, oil-cooled
Priming pump, fuel
Rear axle, modular
Sediment drain, fuel tank
Tandem drive
Transmission, 8F/6R, power shift, direct drive
VHP Plus (Variable Horsepower)

Electrical

Alarm, back up
Alternator, 150 ampere, sealed
Batteries, maintenance free, heavy duty, 1,125 CCA
Breaker panel, ground accessible
Cab harness and electrical hydraulic valves
Electrical system, 24V
Grade Control Ready – Cab harness, software, electrical hydraulic valves, bosses and brackets
Lights, roof-mounted roading, reversing, LED stop and tail
Product Link Ready
Starter, electric

Operator Environment

Accelerator
Air conditioning with heater
Arm and wrist rest, electronically adjustable
Articulation, automatic Return-to-Center
Ashtray and lighter
Cat® Messenger operator information system
Centershift pin indicator
Coat hook
Cup holder
Display, digital speed and gear
Doors, left and right side with wiper
Gauge, machine level
Gauge cluster (analog) – fuel, articulation, engine coolant temp, engine RPM, hydraulic oil temp, regen
Hour meter, digital
Joystick hydraulic controls right/left blade lift with float position, circle drive, blade sideshift and tip, centershift, front wheel lean, articulation and power steering
Joystick, adjustable armrests
Joystick gear selection
Joystick hydraulic power steering
Ladders, cab, left and right side
Lights, night time cab
Mirror, inside rearview, wide angle
Power port, 12V
Radio Ready, Entertainment
ROPS cab, sound suppressed 70 dB(A)
Seat, cloth-covered, comfort suspension
Seat belt, retractable 76 mm (3 in)
Storage area for cooler/lunchbox
Throttle control, electronic
Windows, laminated glass: – fixed front with intermittent wiper – side and rear (3)

Fluids

Antifreeze
Extended Life Coolant to –35° C (–30° F)

Tires, Rims And Wheels

Partial allowance for tires on 254 × 607 mm (10 × 24 in) multi-piece rims is included in the base machine price and weight

Other Standard Equipment

Accumulators, brake, dual certified
Anti-glare paint
Bumper, rear, integrated with hitch
CD ROM Parts Book
Clutch, circle drive slip
Cutting edges: – 152 × 16 mm (6 × 5/8 in) – curved DH-2 steel – 19 mm (3/4 in) mounting bolts
Doors (3), engine compartment, locking
Drawbar – 6 shoes, replaceable wear strips
Electrical hydraulic valves, hydraulic lines for base 8 functions
Endbits: – 16 mm (5/8 in) DH-2 steel – 19 mm (3/4 in) mounting bolts
Fluid check, ground level
Frame, articulated, with safety lock
Ground level engine shutdown
Hammer (emergency exit)
Horn, electric
Hydraulic lines for base functions
Lockout, hydraulic implement (for roading and servicing)
Moldboard – 3658 × 610 × 22 mm (12 ft × 24 in × 7/8 in)
Mounting, cab roof accessories
Pump, hydraulic, high capacity, 98 cm³ (6 in³)
Radiator, cleanout access (both sides with swing doors)
Secondary steering
Serviceability, LH side
SOSSM ports: engine, hydraulic, transmission, coolant, fuel
Tandem walkway/guards
Tool box
Tow hitch
Electrical

Alternator, 280 ampere
Batteries: extreme duty, 1,400 CCA
Converter, communication (CB)
Lights: Headlights, high
Lights: Headlights, low
Lights: Working lights, basic
Lights: Working lights, plus, LED
Lights: Warning: beacon or strobe
Lights: Mounting for warning light

Guards

Fenders, front
Fenders, rear
Sound suppression (bottom)
Sound suppression (enclosure)
Transmission

Operator Environment

Fan, defroster, rear window
Mirrors, outside: heated 24V
Mirrors, outside: mounted
Precleaner, HVAC
Radio ready, AM/FM
Seat, air suspension, cloth
Shade, sun
Wiper/washer, rear

Power Train

Fuel tank, fast fill
Oil, hydraulic, biodegradable synthetic
Precleaner, snow
Starter, heavy duty, 1,000 Amp
Transmission, autoshift

Other Attachments

AccuGrade ARO
Accumulators, blade lift
Camera, rearview
Cat Product Link 321SR
Drain, ecology, engine Wiggins
Fenders, rear
Heater, engine coolant: 120V
Heater, engine coolant: 240V
Hydraulic arrangements with one or more additional hydraulic valves are available for rear ripper, dozer, snow plow and snow wing.
Snow wing mounting, frame ready
Sound suppression
Starting aid, ether

Work Tools/g.e.t.

Blade extension, left hand, 610 mm (2 ft)
Cutting edges, curved
Endbits, overlay
Front lift group, mounting
Front lift group, mechanical
Grader bit, narrow and super penetration
Mid-Mount Scarifier, Package
Mid-Mount Scarifier, Mounting
Moldboard: 4267 mm × 610 mm × 22 mm (14 ft × 24 in × 7/8 in)
Moldboard: 4267 mm × 686 mm × 25 mm (14 ft × 27 in × 1 in)
Push plate, counterweight
Ripper, mounting
Ripper, rear
Ripper tooth
Scarifier, front
Snow Arrangement
Snow Wing Ready Package

Machine Arrangements

Canadian Arrangement
European Arrangement
European Roading Arrangement
Find a Whayne or Walker

Location

or

Rep

Near You