Off-Highway Trucks:
777G Off-Highway Truck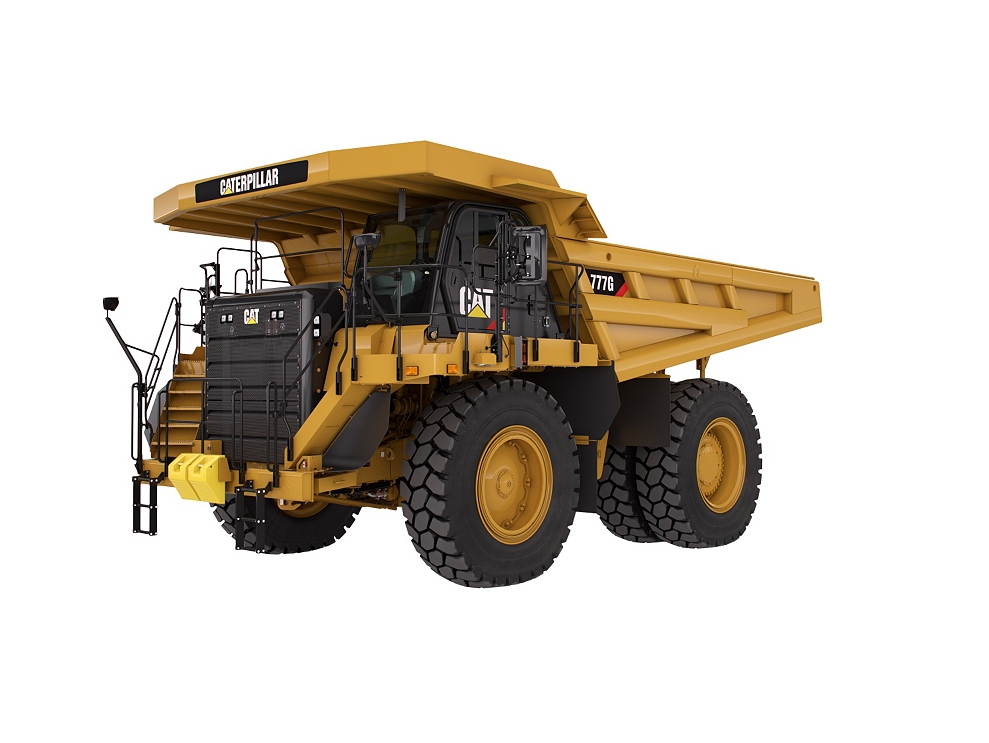 Engine Model

Cat® C32 ACERT™

Cylinders

12

Engine Power - ISO 14396

1008.0 hp

Engine Speed

1800.0 RPM
G Series represents a new era for this size class from Caterpillar. With your input, we have designed and manufactured a truck that is reliable, economical and offers comfort, confidence and control for your operators. Your long-term success is our goal; with G Series trucks, we're on the right road.
---
---
Product Specs
Engine

Engine Model

Cat® C32 ACERT™

Cylinders

12

Engine Power - ISO 14396

1008.0hp

Engine Speed

1800.0RPM

Net Torque

3899.0ft-lb

Peak Torque Speed

1200.0RPM

Gross Power - SAE J1995

1025HP

Net Power - SAE J1349

916HP

Net Power - 80/1269/EEC

916HP

Net Power - ISO 9249

916HP

Bore

5.7in

Stroke

6.4in

Displacement

1959in³

Engine Model

Cat® C32 ACERT™

Cylinders

12

Engine Power - ISO 14396

1008HP

Engine Speed

1800r/min

Net Torque

3899ft-lb

Peak Torque - Speed

1200r/min

Brakes

Brake Surface Area - Front

6331.0in2

Brake Surface Area - Rear

15828.0in2

Brake Standards

ISO 3450:1996

Brake Surface Area - Front

6331in²

Brake Surface Area - Rear

15828in²

Service Refill Capacities

Brake Hoist System (Includes Tank)

117.0gal

Final Drives (each)

20.0gal

Fuel Tank

350.0gal

Fuel Tank (1)

300gal (US)

Cooling System

63.4gal (US)

Steering System - Including Tank

14.1gal (US)

Brake Hoist System

85gal (US)

Crankcase

28.7gal (US)

Differentials

59.9gal (US)

Torque Converter - Transmission System

36.5gal (US)

Brake Hoist System - Includes Tank

117gal (US)

Final Drive - Each

20gal (US)

Fuel Tank (2)

350gal (US)

Operating Specifications

Body Capacity - SAE 2:1

83.8yd3

Not to Exceed Payload (120%)*

118.1ton (US)

Body Capacity - SAE 2:1

83.8yd³

Nominal Payload Class (100%)

98.4ton (US)

Top Speed - Loaded

41.7mile/h

Maximum Payload (110%)

108.2ton (US)

Nominal Payload (100%)

98.4ton (US)

ROPS

ROPS/FOPS Standards

Standards

ROPS/FOPS Standards

Standards

Sound

Sound Standards

Standards

Sound Standards

Standards

Weights - Approximate

Target Gross Machine Weight

363000lb

Capacity - Dual Slope - 100% Fill Factor

Struck

54.8yd³

Heaped 2:1 (SAE)

78.8yd³

Weight Distributions - Approximate

Front Axle - Empty

46%

Front Axle - Loaded

33%

Rear Axle - Empty

54%

Rear Axle - Loaded

67%

Transmission

Forward - 1

6.8mile/h

Forward - 2

9.2mile/h

Forward - 3

12.5mile/h

Forward - 4

16.9mile/h

Forward - 5

22.9mile/h

Forward - 6

30.7mile/h

Forward - 7

41.7mile/h

Reverse

7.7mile/h

Final Drives

Differential Ratio

2.736:1

Planetary Ratio

7.0:1

Total Reduction Ratio

19.1576:1

Body Hoists

Pump Flow - High Idle

120.9gal/min

Relief Valve Setting - Raise

2750psi

Relief Valve Setting - Lower

500psi

Body Raise Time - High Idle

15s

Body Lower Time - Float

13s

Body Lower Time - High Idle

13s

Suspension

Rear axle - Oscillation

5.4°

Empty Loaded Cylinder Stroke Front

2.9in

Empty Loaded Cylinder Stroke Rear

2.5in

Capacity - Coal Bodies - 100% Fill Factor

SAE 2:1 - For use with material densities less than 950 kg/m3 (1,600 lb/yd3)

165yd³

SAE 2:1 - For use with material densities of 1040-1160 kg/m3 (1,750-1,950 lb/yd3)

139yd³

SAE 2:1 - For use with material densities of 1160 kg/m3 (1,950 lb/yd3)

116yd³

SAE 2:1 - For use with material densities of 950-1040 kg/m3 (1,600-1,750 lb/yd3)

144yd³

Capacity - X Body - 100% Fill Factor

Heaped 2:1 (SAE)

83.8yd³

Struck

56.3yd³

Steering

Turning Diameter - Front

83ft

Steering Standards

SAE J1511 FEB94 ISO 5010:1992

Steer Angle

30.5°

Turning Circle - Clearance Diameter

93ft

Tires

Standard Tire

27.00R49 (E4)
Equipment
Power Train

Autostall
Engine idle shutdown
Air-To-Air Aftercooler (ATAAC)
Air cleaner with precleaner (2)
Automatic cold mode idle control
Electric priming pump
Electric cold weather start (two starters and four batteries)
Ether starting aid
Exhaust, muffler
Fuel filter/water separator
Turbocharger (2)
Braking system: - Brake wear indicator - Automatic Retarder Control (ARC) (utilizes oil-cooled, multiple disc brakes) - Brake release motor (towing) - Manual retarder (utilizes oil cooled, multiple disc brakes) - Oil-cooled, multiple disc (front/rear) - Parking - Secondary - Service
Transmission: - Auto neutral idle - APECS Software - ECPC
Part Throttle Shifting: - 7 speed automatic powershift with Torque Shift Management electronic clutch pressure control - Body up shift inhibitor - Directional shift management - Downshift inhibitor - Neutral start switch - Neutral coast inhibitor - Reverse shift inhibitor - Reverse neutralizer during dumping - Programmable top gear selection

Suspension Systems

Electrical

Alarm, backup
Alternator, 115 ampere
Auxiliary jump start receptacle
Batteries, maintenance-free, 12V (4), 190 amp-hour
Electrical system, 25 AMP, 24V to 12V converter
Lighting system: - Backup light (halogen) - Directional signals/hazard warning, (front and rear LED) - Headlights, (halogen) with dimmer - Payload, indicator lights - Operator access courtesy lights - Side profile lights - Stop/tail lights (LED) - Service lights

Operator Environment

Air conditioning
Ashtray and cigarette lighter
Coat hook
Cup holders (4)
Diagnostic connection port, 24V
Entertainment Radio Ready: - 5 amp converter - Speakers - Antenna - Wiring harness
Gauges/indicators: - Brake oil temperature gauge - Coolant temperature gauge - Hour meter - Tachometer - Engine overspeed indicator - Fuel level - Speedometer with odometer - Transmission gear indicator
Heater/defroster (11 070 kCal/43,930 BTU)
Auto temp control
Fluid level monitoring
Hoist lever
Horn, electric
Light - dome
Light - courtesy
Load counter, automatic
Advisor display
VIMS
TPMS
Foot rest
Mirrors - heated
Power port, 24V and 12V (2)
ROPS cab, insulated/sound suppressed
Cat Comfort Series III: - Full air suspension - Retractable 3 point seat belt with shoulder harness
Steering wheel, padded, tilt and telescopic
Storage compartment
Sun visor
Throttle lock
Window, right side, hinged access/egress
Electric left side window control
Windshield wiper (intermittent) and washer
Tinted, laminated glass

Technology Products

Product Link Ready (Level 1)
TKPH/TMPH (Tons Kilometer Per Hour/Tons Mile Per Hour)
Object Detection (4 cameras, 4 radars)
Adaptive economy mode

Guards

Engine crankcase
Driveline
Fan and A/C

Fluids

Extended Life Coolant to -35° C (-30° F)

Other Standard Equipment

Body mounting group
Body safety pin (secures body in up position)
Body down indicator
CD ROM parts book
Center mounted rims
Fuel tank (1136 L/300 gal)
Ground level battery disconnect
Ground level engine shutdown
Ground level grease fittings
Reservoirs (separate): - Brake/hoist - Steering - Transmission/torque converter
Rims 19.5 × 49
Rock ejectors
Supplemental steering (automatic)
Tie down eyes
Tow hooks (front)/Tow pin (rear)
Vandalism protection locks
Wiggins fast fuel
Traction Control System (new version)
Attachment Zone
Find a Whayne or Walker

Location

or

Rep

Near You