Cat Wheel Loaders:
918M Compact Wheel Loader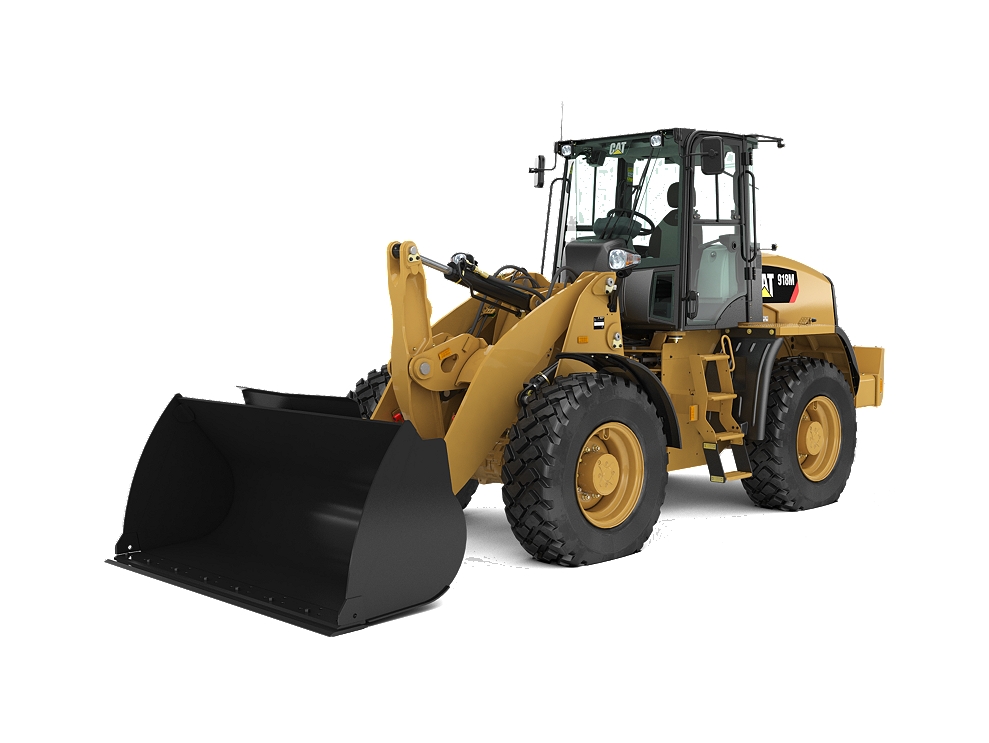 Maximum Gross Power: Maximum Engine Speed

2350 RPM

Operating Weight

20917 lb

Rated Bucket Capacity

2.5 yd3

Net Power

113 hp
The Cat® 918M Wheel Loader sets the standard for productivity and features the optimized Z-bar Loader Linkgage to handle loads with precise control, all around visibility from the comfort of the heated, air suspension seat inside the cab, as well as the standard fuel savings Eco Mode. The intuitive controls and compact size of this machine make it quick and easy to operate in tight spaces. Indispensible to any jobsite, the 918M is a powerful fuel efficient machine giving you the best value in its size class.
---
---
Product Specs
Engine

Maximum Gross Power: Maximum Engine Speed

2350RPM

Net Power

113hp

Engine Model

Cat C4.4 ACERT™

Maximum Gross Power: SAE J1995

117hp

Maximum Gross Power: ISO 14396

115hp

Maximum Gross Power: ISO 14396 (DIN)

117hp

Rated Net Power: Rated Engine Speed

2200RPM

Rated Net Power: SAE J1349

112hp

Engine Model

Cat® C4.4

Maximum Gross Power - ISO 14396 (DIN)

117HP

Maximum Gross Power - Maximum Engine Speed

2350r/min

Rated Net Power - Rated Engine Speed

2200r/min

Maximum Gross Power

117HP

Bore

4.13in

Rated Net Power: ISO 9249

113hp

Stroke

5in

Rated Net Power: ISO 9249 (DIN)

114hp

Displacement

268in³

Maximum Gross Torque: SAE J1995

372lbf-ft

Maximum Gross Torque: ISO 14396

369lbf-ft

Maximum Net Torque: SAE J1349

361lbf-ft

Maximum Net Torque: ISO 9249

365lbf-ft

Displacement

268in3

Bore

4.13in

Emissions

Engine meets U.S. EPA Tier 4 Final/EU Stage IV emission standards.

Stroke

5.00in

Maximum Gross Torque - ISO 14396

369ft·lbf

Emissions

Engine meets U.S. EPA Tier 4 Final/EU Stage IV emission standards.

Note

Net power advertised is the power available at the flywheel plus front drive implement pump when the engine is equipped with fan, air cleaner, muffler and alternator.

Note

Net power advertised is the power available at the flywheel plus front drive implement pump when the engine is equipped with fan, air cleaner, muffler and alternator.

Net Power

113hp

Engine Model

Cat C4.4 ACERT™

Maximum Gross Power: Maximum Engine Speed

2350RPM

Maximum Gross Power - ISO 14396

115HP

Maximum Gross Power - SAE J1995

117HP

Maximum Gross Power: ISO 14396 (DIN)

117hp

Rated Net Power: Rated Engine Speed

2200RPM

Rated Net Power - SAE J1349

112HP

Rated Net Power - ISO 9249

113HP

Rated Net Power - ISO 9249 (DIN)

114HP

Maximum Gross Torque - SAE J1995

372ft·lbf

Maximum Gross Torque: ISO 14396

369lbf-ft

Maximum Net Torque: SAE J1349

361lbf-ft

Displacement

268in3

Bore

4.13in

Stroke

5.00in

Emissions

Engine meets U.S. EPA Tier 4 Final/EU Stage IV emission standards.

Note

Net power advertised is the power available at the flywheel plus front drive implement pump when the engine is equipped with fan, air cleaner, muffler and alternator.

Maximum Gross Power

115hp

Maximum Gross Power

115hp

Net Power

113HP

Weights

Operating Weight

20917lb

Operating Weight

21082lb

Operating Weight

20917lb

Operating Specifications

Rated Bucket Capacity

2.5yd3

Rated Bucket Capacity

2.5yd³

Rated Bucket Capacity

2.5yd3

Service Refill Capacities

Cooling System

5.7gal

Fuel Tank

40.7gal

Hydraulic System (including tank)

25.9gal

Engine Crankcase

2.3gal

Cooling System

5.7gal (US)

Engine Crankcase

2.3gal (US)

Fuel Tank

40.7gal (US)

Hydraulic System - Including Tank

25.9gal (US)

Transmission

0.9gal (US)

Axles - Front

4.5gal (US)

Axles - Rear

4.5gal (US)

Cooling System

5.7gal

Hydraulic Tank

14.5gal (US)

Fuel Tank

40.7gal

Hydraulic System (including tank)

25.9gal

Engine Crankcase

2.3gal

Axles: Front

4.5gal

Axles: Rear

4.5gal

Hydraulic Tank

14.5gal

Diesel Exhaust Fluid (DEF) Tank

5.0gal

Note

DEF used in Cat SCR systems must meet the requirements outlined in the International Organization for Standardization (ISO) standard 22241-1.

Transmission

0.9gal

Axles: Front

4.5gal

Axles: Rear

4.5gal

Hydraulic Tank

14.5gal

Diesel Exhaust Fluid (DEF) Tank

5gal (US)

Note

DEF used in Cat Selective Catalyst Reduction (SCR) systems must meet the requirements outlined in the International Organization for Standardization (ISO) standard 22241-1.

Transmission

0.9gal

Buckets

Bucket Capacities

1.3-1.9 m³ (1.7-2.5 yd³)

Bucket Capacities

1.3-1.9 m3 (1.7-2.5 yd3)

Bucket Capacities

1.3-1.9 m3 (1.7-2.5 yd3)

Bucket Capacities - General Purpose

1.3-1.9 m³ (1.7-2.5 yd³)

Cab

ROPS

SAE J1040 MAY94, ISO 3471-1994

FOPS

SAE J/ISO 3449 APR98, Level II, ISO 3449:2005 Level II

Note (1)

Cab and Rollover Protective Structures (ROPS) are standard in North America and Europe.

Note (2)

The declared dynamic operator sound pressure levels per ISO 6396:2008*, when properly installed and maintained, is 77 dB(A).

ROPS

SAE J1040 MAY94, ISO 3471-1994

FOPS

SAE J/ISO 3449 APR98, Level II, ISO 3449 1992 Level II

Note

Cab and Rollover Protective Structures (ROPS) are standard in North America and Europe.

Note

The declared dynamic operator sound pressure levels per ISO 6396:2008*, when properly installed and maintained, is 77 dB(A).

Note

The labelled sound power level for the CE marked configurations when measured according to the test procedure and conditions specified in 2000/14/EC is 103 dB(A).

Note

*The measurements were conducted with the cab doors and windows closed.

ROPS

SAE J1040 MAY94, ISO 3471-1994

FOPS

SAE J/ISO 3449 APR98, Level II, ISO 3449 1992 Level II

Note

Cab and Rollover Protective Structures (ROPS) are standard in North America and Europe.

Note

The declared dynamic operator sound pressure levels per ISO 6396:2008*, when properly installed and maintained, is 77 dB(A).

Note (3)

The labelled sound power level for the CE marked configurations when measured according to the test procedure and conditions specified in 2000/14/EC is 103 dB(A).

Note (4)

*The measurements were conducted with the cab doors and windows closed.

Engine - Tier 4 Final/Stage IV

Maximum Net Torque - SAE J1349

361ft·lbf

Maximum Net Torque - ISO 9249

365ft·lbf

Steering

Steering Articulation Angle (each direction)

40degrees

Maximum Flow – Steering Pump

21.7gal/min

Maximum Working Pressure – Steering Pump

3190psi

Steering Cycle Times (full left to full right): At 2,350 RPM: 90 RPM steering wheel speed

2.3seconds

Number of Steering Wheel Turns – full left to full right or full right to full left

3.4turns

Maximum Working Pressure - Steering Pump

3190psi

Steering Articulation Angle - Each Direction

40°

Maximum Flow - Steering Pump

21.7gal/min

Maximum Working Pressure – Steering Pump

3190psi

Steering Cycle Times - Full Left to Full Right - At 2,350 rpm: 90 rpm Steering Wheel Speed

2.3s

Number of Steering Wheel Turns - Full Left to Full Right or Full Right to Full Left

3.4turns

Loader Hydraulic System

Hydraulic Cycle Time - Total Cycle Time

11.5s

Maximum Flow - Implement Pump

43.6gal/min

Maximum Flow - Implement Pump - 3rd Function, Maximum Flow, Standard

25gal/min

Maximum Flow - Implement Pump - 4rd Function, Maximum Flow

25gal/min

Maximum Working Pressure - Implement Pump

4061psi

Maximum Flow – Implement Pump

43.6gal/min

Note

All cycle times listed are with cylinder snubbing turned off.

Maximum Flow – Implement Pump: 3rd Function, Maximum Flow, Standard

25gal/min

Relief Pressure - Tilt Cylinder - 3rd Function Relief Pressure

4641psi

Maximum Flow – Implement Pump: 3rd Function, Maximum Flow, High

40gal/min

Relief Pressure - Tilt Cylinder - 4th Function Relief Pressure

4641psi

Maximum Flow – Implement Pump: 4rd Function, Maximum Flow

25gal/min

Maximum Working Pressure – Implement Pump

4061psi

Relief Pressure – Tilt Cylinder

4641psi

Relief Pressure – Tilt Cylinder: 3rd Function Relief Pressure

4641psi

Relief Pressure – Tilt Cylinder: 4th Function Relief Pressure

4641psi

Hydraulic Cycle Times: Raise (ground level to maximum lift)

4.8seconds

Hydraulic Cycle Times: Dump (at maximum reach)

1.8seconds

Hydraulic Cycle Times: Float Down (maximum lift to ground level)

2.7seconds

Hydraulic Cycle Times: Total Cycle Time

11.5seconds

Maximum Flow – Implement Pump

43.6gal/min

Maximum Flow – Implement Pump: 3rd Function, Maximum Flow, Standard

25gal/min

Maximum Flow - Implement Pump - 3rd Function, Maximum Flow, High

40gal/min

Maximum Flow – Implement Pump: 4rd Function, Maximum Flow

25gal/min

Maximum Working Pressure – Implement Pump

4061psi

Relief Pressure - Tilt Cylinder

4641psi

Relief Pressure – Tilt Cylinder: 3rd Function Relief Pressure

4641psi

Relief Pressure – Tilt Cylinder: 4th Function Relief Pressure

4641psi

Hydraulic Cycle Times:: Rack Back

2.2seconds

Hydraulic Cycle Time - Raise, Ground Level to Maximum Lift

4.8s

Note

All cycle times listed are with cylinder snubbing turned off.

Hydraulic Cycle Time - Dump, at Maximum Reach

1.8s

Hydraulic Cycle Time - Rackback

2.2s

Hydraulic Cycle Time - Float Down, Maximum Lift to Ground Level

2.7s

Hydraulic Cycle Times:: Rack Back

2.2seconds

Note

All cycle times listed are with cylinder snubbing turned off.

Tires

Note (1)

Other tire choices are available. Contact your Cat dealer for details.

Note (2)

In certain applications, the loader's productive capabilities may exceed the tire's tonnes-km/h (ton-mph) capabilities.

Note (3)

Caterpillar recommends that you consult a tire supplier to evaluate all conditions before selecting a tire model.

Standard Size

17.5-25 12PR

Other Choices Include:

17.5-25 12PR L2; 17.5-R25 XHA * L3; 17.5-R25 * L2/L3 PC RM; 17.5-25 16PR L3, 3PC Rim; 17.5-25 GY L2/L3; 17.5-25 12PR L2, SNOW; Flexport™

Note

Other tire choices are available. Contact your Cat dealer for details.

Note

In certain applications, the loader's productive capabilities may exceed the tire's tonnes-km/h (ton-mph) capabilities.

Note

Caterpillar recommends that you consult a tire supplier to evaluate all conditions before selecting a tire model.

Standard Size

17.5 R25 XTLA L2

Other Choices Include

17.5-25 12PR L2; 17.5-R25 XHA L3; 17.5-R25 L2/L3, 3PC Rim; 17.5-25 16PR L3, 3PC Rim; 17.5-25 GY L2/L3; 17.5-25 12PR L2, SNOW; 20.5 R25 L2 Snow, 3PC Rim; 20.5 R25 XHA-2 L3, 3PC Rim; 20.5-25 12PR; Solid Tires

Note

Other tire choices are available. Contact your Cat dealer for details.

Note

In certain applications, the loader's productive capabilities may exceed the tire's tonnes-km/h (ton-mph) capabilities.

Note

Caterpillar recommends that you consult a tire supplier to evaluate all conditions before selecting a tire model.

Transmission

Forward and Reverse - Low Range, Speed Range 2

12.5mile/h

Forward and Reverse: Low Range, Speed Range 1*

6.3mph

Forward and Reverse: Low Range, Speed Range 2

12.5mph

Forward and Reverse: High Range

25mph

Note

*Creeper Control allows speed control from a stand still up to 10 km/h (6.3 mph). The Creeper Control will only work in Range 1.

Forward and Reverse - Low Range, Speed Range 1*

6.3mile/h

Forward and Reverse: Low Range, Speed Range 2

12.5mph

Forward and Reverse - High Range

25mile/h

Note

*Creeper Control allows speed control from a stand still up to 10 km/h (6.3 mph). The Creeper Control will only work in Range 1.

Axles

Front

Fixed; Locking differential (standard)

Rear

Oscillating ±11 degrees; Locking differential (standard)

Front

Fixed; Locking differential (standard)

Rear

Oscillating ±11 degrees; Locking differential (standard)

Tire Option - 17.5X25 SOLID

Tipping Load - Full Turn

+827 kg (+1,823 lb)
Equipment
Power Train

Cat® C4.4 engine:

Common rail fuel injection
U.S. EPA Tier 4 Final/EU Stage IV

Caterpillar NOx reduction system
Fuel: Ultra Low Sulphur Diesel @ <15 ppm EPA/<10 ppm EU
Engine oil: CJ-4
Electric fuel pump with 4 micron filtration
S·O·SSM port, transmission oil
Hydrostatic transmission, 20 km/h (12.5 mph)
Lube for life universal joints
Forward – Neutral – Reverse on joystick
100% locking differentials
Air cleaner, radial seal, dual filters
Cooling fan, on demand
Tires 17.5-25 12PR
Integrated cyclone precleaner

Loader End

Parallel lift, optimized Z-bar loader

Regional Standards (as Required)

Back-up alarm
Chocks, bucket tooth or edge
Decals, roading speed
Beacon
Reflectors, roading
Camera, rearview

Hydraulics

Two valve, single lever joystick
Diagnostic pressure taps
S·O·S port, hydraulic oil
Variable displacement piston pump
Cylinder damping at kickout and end stops

Electrical

150 amp alternator
Single 850 CCA maintenance free battery
Roading lights
Battery disconnect switch

Fluids

Extended life coolant antifreeze, protected to –36° C (–33° F)
Cat Advanced HYDO 10 Hydraulic Oil

Chassis

Front and rear fenders
Lockable engine enclosure
Recovery hitch
Vandalism protection – locked service points

Operator Environment

ROPS/FOPS cab, pressurised and sound suppressed
Implement Lockout
Electro-hydraulic implement controls
Gauges:

Engine coolant temperature
Hydraulic oil temperature
Fuel level
Speedometer
Digital hour meter
DEF Level Indicator

Warning system indicators:

Brake charge pressure low
Engine malfunction
Park brake applied
Electrical system voltage flow
Hydraulic oil filter bypass
Action indicator
Emission Malfunction
Air Filter Restriction

Seat:

Fabric or vinyl
Adjustable height, backrest, armrest

Heater/defroster
Tinted front glass, laminated
Adjustable steering column
Rear window defrost
Lockable storage box
Internal 12V power source
External 12V power source
Power Train

Secondary steering
Sound Suppression, EU Prep Package
Extreme temperature engine coolant
High Speed Option 40 km/h (25 mph)
918M tire options:

17.5-25 12PR L2
17.5-R25 XHA * L3
17.5-R25 * L2/L3 PC RM
17.5-25 16PR L3, 3PC Rim
17.5-25 GY L2/L3
17.5-25 12PR L2, SNOW
Flexport™

Loader End

Integrated tool carrier coupler
Wide (ISO) coupler

Hydraulics

Three valve, single lever joystick
Four valve, single lever joystick
High flow, third valve

Electrical

Halogen lights, front and rear
LED work lights, front and rear
Heavy duty battery package
Work tool wiring harness

Fluids

Biodegradable hydraulic oil

Chassis

Lockable toolbox
Fenders, mud flaps

Operator Environment

ROPS/FOPS Canopy or Cab
Premium Heated, Air Suspension Seat
Heater and Air Conditioner
Feature Package: Road/Load/Road & Load. Dependent on package selection, features included are:

Ride Control
Adjustable Ground Speed Control
Implement Modulation
Hystat Aggressiveness
Throttle Lock and Adjust
Adjustable Rimpull
Automatic Loader lift and bucket kickouts adjustable in cab

Cat radio (Bluetooth)
Rear blind
Security system
Retractable seat belt 75 mm (3")
Rearview camera and screen (standard in EU)
Product Link™
Find a Boyd CAT

Location

or

Rep

Near You
BOYD CAT USED PARTS - offering discontinued, rebuilds, out of stock, and CAT bargain list and aftermarket. Save money. Buy used. Used_Parts@BoydCAT.com
X