Cat Wheel Loaders:
926M Wheel Loader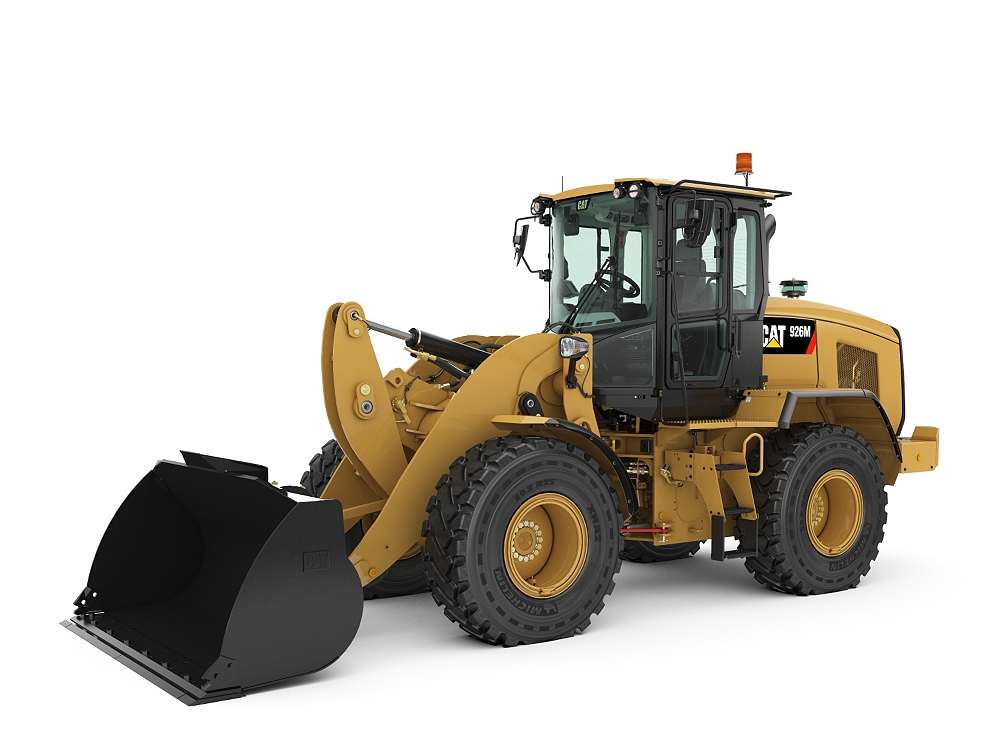 Operating Weight

28770 lb

Bucket Capacities

1.9-5.0 m3 (2.5-6.5 yd3)

Engine Model

Cat® C7.1 ACERT™

Emissions

Engine meets U.S. EPA Tier 4 Final/EU Stage IV emission standards.
The Cat 926M Small Wheel Loader sets the standard for productivity, fuel efficiency and operator comfort. The improved optimized Z-bar loader linkage delivers the quick loading performance of a traditional Z-bar with the parallelism and load handling capability of a tool carrier. A high torque, low speed C7.1 ACERT engine works in concert with an intelligent hystat power train to deliver fuel efficiency as standard. Meets Tier 4 Final/Stage IV emission standards with an environmentally friendly, Clean Emission Module designed to manage itself so you can concentrate on your work. Experience the new industry benchmark.
---
---
Product Specs
Weights

Operating Weight

28770lb

Operating Weight

28770lb

Buckets

Bucket Capacities

1.9-5.0 m3 (2.5-6.5 yd3)

Bucket Capacities

1.9-5.0 m3 (2.5-6.5 yd3)

Bucket Capacities – General Purpose

1.9-2.5 m3 (2.5-3.2 yd3)

Bucket Capacities – Light Material

3.1-5.0 m3 (4.0-6.5 yd3)

Engine

Engine Model

Cat® C7.1 ACERT™

Emissions

Engine meets U.S. EPA Tier 4 Final/EU Stage IV emission standards.

Stroke

5in

Note

* Range 4 power and torque is equal to Performance Mode with Caterpillar Power by Range technology.

Engine Model

Cat® C7.1 ACERT™

Maximum Gross Power

153HP

Bore

4in

Stroke

5in

Displacement

427in³

Emissions

Engine meets U.S. EPA Tier 4 Final/EU Stage IV emission standards.

Maximum Gross Torque - ISO 14396 (Performance Power Mode: Range 1-4)

531lb/ft

Maximum Gross Torque - ISO 14396 (Standard Power Mode: Range 1-3*)

531lb/ft

Maximum Net Torque - ISO 9249 (1977)/EEC 80/1269 (Performance Power Mode: Range 1-4)

517lb/ft

Maximum Net Torque - ISO 9249 (1977)/EEC 80/1269 (Standard Power Mode: Range 1-3*)

517lb/ft

Maximum Net Torque - SAE J1349 (Performance Power Mode: Range 1-4)

511lb/ft

Maximum Net Torque - SAE J1349 (Standard Power Mode: Range 1-3*)

511lb/ft

Maximum Rated Gross Power - ISO 14396 (DIN) (Standard Power Mode: Range 1-3*)

148HP

Maximum Rated Gross Power - ISO 14396 (Standard Power Mode: Range 1-3*)

146HP

Maximum Rated Gross Power - Maximum Engine Speed (Standard Power Mode: Range 1-3*)

1600r/min

Note (1)

* Range 4 power and torque is equal to Performance Mode with Caterpillar Power by Range technology.

Note (2)

Net power ratings are tested at the reference conditions for the specified standard and denote power available at the flywheel when the engine is equipped with alternator, air cleaner, emission components and fan at specified speed.

Note (3)

No derating required up to 3000 m (10,000 ft) altitude. Auto derate protects hydraulic and transmission systems.

Note (4)

Spark arrestor performance as standard – Meets performance requirements of EN 1834-1.2000 (section 6.4.2 Visual Test).

Rated Net Power - 1,600 rpm - ISO 9249 (1977)/EEC 80/1269 at Minimum Fan Speed (Standard Power Mode: Range 1-3*)

142HP

Rated Net Power - 1,600 rpm - ISO 9249 (DIN) at Minimum Fan Speed (Standard Power Mode: Range 1-3*)

144HP

Rated Net Power - 1,600 rpm - SAE J1349 at Minimum Fan Speed (Standard Power Mode: Range 1-3*)

141HP

Rated Net Power - 1,800 rpm - ISO 9249 (DIN) at Minimum Fan Speed (Performance Power Mode: Range 1-4)

151HP

Rated Net Power

148HP

Maximum Rated Gross Power - ISO 14396

153HP

Maximum Rated Gross Power - ISO 14396 (DIN)

155HP

Maximum Rated Gross Power - Maximum Engine Speed (Performance Power Mode: Range 1-4)

1800r/min

Maximum Rated Gross Power - ISO 14396 (Performance Power Mode: Range 1-4)

153HP

Maximum Rated Gross Power - ISO 14396 (DIN) (Performance Power Mode: Range 1-4)

155HP

Rated Net Power - 1,800 rpm - SAE J1349 at Minimum Fan Speed (Performance Power Mode: Range 1-4)

148HP

Rated Net Power - 1,800 rpm - ISO 9249 (1977)/EEC 80/1269 at Minimum Fan Speed (Performance Power Mode: Range 1-4)

149HP

Rated Net Power at 1,800 rpm – ISO 9249 (DIN) at Minimum Fan Speed (Performance Power Mode: Range 1-4)

151hp

Maximum Gross Torque – ISO 14396 (Performance Power Mode: Range 1-4)

531lbf-ft

Maximum Net Torque – SAE J1349 (Performance Power Mode: Range 1-4)

511lbf-ft

Maximum Net Torque – ISO 9249 (1977)/EEC 80/1269 (Performance Power Mode: Range 1-4)

517lbf-ft

Maximum Rated Gross Power – Maximum Engine Speed (Standard Power Mode: Range 1-3*)

1600rpm

Maximum Rated Gross Power – ISO 14396 (Standard Power Mode: Range 1-3*)

146hp

Maximum Rated Gross Power – ISO 14396 (DIN) (Standard Power Mode: Range 1-3*)

148hp

Rated Net Power at 1,600 rpm – SAE J1349 at Minimum Fan Speed (Standard Power Mode: Range 1-3*)

141hp

Rated Net Power at 1,600 rpm – ISO 9249 (1977)/EEC 80/1269 at Minimum Fan Speed (Standard Power Mode: Range 1-3*)

142hp

Rated Net Power at 1,600 rpm – ISO 9249 (DIN) at Minimum Fan Speed (Standard Power Mode: Range 1-3*)

144hp

Maximum Gross Torque – ISO 14396 (Standard Power Mode: Range 1-3*)

531lbf-ft

Maximum Net Torque – SAE J1349 (Standard Power Mode: Range 1-3*)

511lbf-ft

Maximum Net Torque – ISO 9249 (1977)/EEC 80/1269 (Standard Power Mode: Range 1-3*)

517lbf-ft

Displacement

427in3

Bore

4in

Note

Net power ratings are tested at the reference conditions for the specified standard and denote power available at the flywheel when the engine is equipped with alternator, air cleaner, emission components and fan at specified speed.

Note

No derating required up to 3000 m (10,000 ft) altitude. Auto derate protects hydraulic and transmission systems.

Note

Spark arrestor performance as standard – Meets performance requirements of EN 1834-1.2000 (section 6.4.2 Visual Test).

Maximum Gross Power

153hp

Loader Hydraulic System

Cycle Times: Performance (HP+) at 1,800 rpm/Standard Power Mode at 1,600 rpm – Float Down (Maximum Lift to Ground Level)

2.6/2.6 seconds

Cycle Times: Performance (HP+) at 1,800 rpm/Standard Power Mode at 1,600 rpm – Total Cycle Time

9.6/10.5 seconds

Note

* 3rd and 4th function flow is fully adjustable from 20% to 100% of maximum flow through the secondary display when equipped.

Cycle Times - Performance (HP+) at 1,800 rpm/Standard Power Mode at 1,600 rpm - Dump (at Maximum Lift Height)

1.5/1.7 seconds

Cycle Times - Performance (HP+) at 1,800 rpm/Standard Power Mode at 1,600 rpm - Float Down (Maximum Lift to Ground Level)

2.6/2.6 seconds

Cycle Times - Performance (HP+) at 1,800 rpm/Standard Power Mode at 1,600 rpm - Raise (Ground Level to Maximum Lift)

5.5/6.2 seconds

Cycle Times - Performance (HP+) at 1,800 rpm/Standard Power Mode at 1,600 rpm - Total Cycle Time

9.6/10.5 seconds

Lift Cylinder, Double Acting - Bore Diameter

4.3in

Lift Cylinder, Double Acting - Rod Diameter

2.4in

Lift Cylinder, Double Acting - Stroke

28.7in

Maximum Flow - Implement Pump

40gal/min

Maximum Flow - Implement Pump - 3rd Function*

40gal/min

Maximum Flow - Implement Pump - 4th Function Maximum Flow*

40gal/min

Maximum Working Pressure - Implement Pump

3771psi

Note (1)

* 3rd and 4th function flow is fully adjustable from 20% to 100% of maximum flow through the secondary display when equipped.

Note (2)

Implement system uses a dedicated load sensing variable displacement pump with dual double acting lift cylinders and a single double acting tilt cylinder.

Note (3)

Flow values listed are for a machine running in Performance Power Mode (1,800 rpm).

Relief Pressure - Tilt Cylinder

4061psi

Relief Pressure - Tilt Cylinder - 3rd and 4th Function Maximum Working Pressure

3771psi

Relief Pressure - Tilt Cylinder - 3rd and 4th Function Relief Pressure

4061psi

Tilt Cylinder, Double Acting - Bore Diameter

5.1in

Tilt Cylinder, Double Acting - Rod Diameter

2.8in

Tilt Cylinder, Double Acting - Stroke

21.9in

Note

Implement system uses a dedicated load sensing variable displacement pump with dual double acting lift cylinders and a single double acting tilt cylinder.

Note

Flow values listed are for a machine running in Performance Power Mode (1,800 rpm).

Maximum Flow – Implement Pump

40gal/min

Maximum Flow – Implement Pump: 3rd Function Maximum Flow*

40gal/min

Maximum Flow – Implement Pump: 4th Function Maximum Flow*

40gal/min

Maximum Working Pressure – Implement Pump

3771psi

Relief Pressure – Tilt Cylinder

4061psi

Relief Pressure – Tilt Cylinder: 3rd and 4th Function Maximum Working Pressure

3771psi

Relief Pressure – Tilt Cylinder: 3rd and 4th Function Relief Pressure

4061psi

Lift Cylinder: Double Acting – Bore Diameter

4.3in

Lift Cylinder: Double Acting – Rod Diameter

2.4in

Lift Cylinder: Double Acting – Stroke

28.7in

Tilt Cylinder: Double Acting – Bore Diameter

5.1in

Tilt Cylinder: Double Acting – Rod Diameter

2.8in

Tilt Cylinder: Double Acting – Stroke

21.9in

Cycle Times: Performance (HP+) at 1,800 rpm/Standard Power Mode at 1,600 rpm – Raise (Ground Level to Maximum Lift)

5.5/6.2 seconds

Cycle Times: Performance (HP+) at 1,800 rpm/Standard Power Mode at 1,600 rpm – Dump (at Maximum Lift Height)

1.5/1.7 seconds

Steering

Steering Cycle Times (Full Left to Full Right) – Minimum RPM: Pump Flow Limited

2.8seconds

Steering Cycle Times (Full Left to Full Right) – Maximum RPM: 90 rpm Steering Wheel Speed

2.4seconds

Maximum Flow - Steering Pump

34gal/min

Maximum Steering Torque - 0° (Straight Machine)

37155lb/ft

Steering Cylinder: Double Acting – Bore Diameter

2.8in

Maximum Steering Torque - 40° (Full Turn)

27747lb/ft

Steering Cylinder: Double Acting – Rod Diameter

1.6in

Maximum Working Pressure - Steering Pump

3500psi

Steering Cylinder: Double Acting – Stroke

17.2in

Note (1)

Steering system uses a dedicated load sensing variable displacement pump with dual double acting cylinders.

Maximum Flow – Steering Pump

34gal/min

Note (2)

Flow values listed are for a machine running in Performance Power Mode (1,800 rpm).

Maximum Working Pressure – Steering Pump

3500psi

Steering Cycle Times - Full Left to Full Right - Maximum RPM: 90 rpm Steering Wheel Speed

2.4s

Maximum Steering Torque – 0° (Straight Machine)

37155lbf-ft

Steering Cycle Times - Full Left to Full Right - Minimum RPM: Pump Flow Limited

2.8s

Maximum Steering Torque – 40° (Full Turn)

27747lbf-ft

Steering Cylinder, Double Acting - Bore Diameter

2.8in

Note

Steering system uses a dedicated load sensing variable displacement pump with dual double acting cylinders.

Steering Cylinder, Double Acting - Rod Diameter

1.6in

Note

Flow values listed are for a machine running in Performance Power Mode (1,800 rpm).

Steering Cylinder, Double Acting - Stroke

17.2in

Transmission

Note

* Creeper control allows maximum speed range adjustability from 1 km/h (0.6 mph) to 13 km/h (8 mph) in Range 1 through the secondary display when equipped. Factory default is 7 km/h (4.4 mph).

Note (cont'd)

Factory default is 7 km/h (4.4 mph).

Forward and Reverse - Range 1*

1-13 km/h (0.6-8 mph)

Forward and Reverse - Range 2

8mile/h

Forward and Reverse - Range 3

17mile/h

Forward and Reverse - Range 4

25mile/h

Note

* Creeper control allows maximum speed range adjustability from 1 km/h (0.6 mph) to 13 km/h (8 mph) in Range 1 through the secondary display when equipped. Factory default is 7 km/h (4.4 mph).

Forward and Reverse: Range 1*

1-13 km/h (0.6-8 mph)

Forward and Reverse: Range 2

8mph

Forward and Reverse: Range 3

17mph

Forward and Reverse: Range 4

25mph

Power Train

Front Axle

Fixed

Front Axle: Traction Aid (standard)

Locking differential

Rear Axle

Oscillating

Rear Axle - Oscillation Angle by Tire Size - 17.5 R25

± 13.5 degrees

Rear Axle: Oscillation Angle by Tire Size – 20.5 R25, 550/65, 600/65, 650/65

± 10.5 degrees

Rear Axle: Oscillation Angle by Tire Size – Solid Tires, 750/65, 620/65, Skidder

± 7 degrees

Rear Axle: Traction Aid (optional)

Limited slip differential

Brakes: Service

Inboard wet disc

Brakes: Park

Spring applied hydraulically released

Brakes - Parking

Spring applied hydraulically released

Brakes - Service

Inboard wet disc

Front Axle

Fixed

Front Axle - Traction Aid - Standard

Locking differential

Note (1)

Power train is governed by the Caterpillar exclusive Intelligent Power Management system to deliver peak performance and efficiency.

Note (2)

Differential front locking axle can be engaged on the go at full torque to 10 km/h (6.2 mph) on the 926M.

Rear Axle

Oscillating

Rear Axle - Oscillation Angle by Tire Size - 20.5 R25, 550/65, 600/65, 650/65

± 10.5 degrees

Rear Axle - Oscillation Angle by Tire Size - Solid Tires, 750/65, 620/65, Skidder

± 7 degrees

Rear Axle - Traction Aid - Optional

Limited slip differential

Note

Power train is governed by the Caterpillar exclusive Intelligent Power Management system to deliver peak performance and efficiency.

Note

Differential front locking axle can be engaged on the go at full torque to 10 km/h (6.2 mph) on the 926M.

Cab

ROPS

ISO 3471: 2008

FOPS

ISO 3449: 2005 LEVEL II

Note (1)

Declared sound levels per ISO 6396:2008* while in Performance Power Mode: – Standard cab: 68 ±3 dB(A) and Deluxe cab

Note (2)

* Measurements were conducted with cab doors and windows closed and at 70% of maximum engine cooling fan speed. Sound level may vary at different engine cooling fan speeds.

Note

Declared sound levels per ISO 6396:2008* while in Performance Power Mode: – Standard cab: 68 ±3 dB(A) and Deluxe cab

Note

* Measurements were conducted with cab doors and windows closed and at 70% of maximum engine cooling fan speed. Sound level may vary at different engine cooling fan speeds.

ROPS

ISO 3471: 2008

FOPS

ISO 3449: 2005 LEVEL II

Air Conditioning System

Air Conditioning

The air conditioning system on this machine contains the fluorinated greenhouse gas refrigerant R134a (Global Warming Potential – 1430). The system contains 1.9 kg of refrigerant which has a CO2 equivalent of 2.717 metric tonnes.

Operating Specifications

Full Turn Tip Load

16587lb

Reach - full lift/45 degree dump angle

3.35ft

Full lift/45 degree dump angle

9.46ft

Articulation Angle

40.0 Degrees

Service Refill Capacities

Cooling System

7.9gal (US)

Diesel Exhaust Fluid (DEF) Tank

5gal (US)

Engine Crankcase

5.3gal (US)

Front Axles

5.5gal (US)

Fuel Tank

51.5gal (US)

Hydraulic System - Including Tank

42.3gal (US)

Hydraulic Tank

23.8gal (US)

Rear Axles

5.5gal (US)

Transmission - Gear Box

2.2gal (US)

Fuel Tank

51.5gal

Cooling System

7.9gal

Engine Crankcase

5.3gal

Transmission (Gear Box)

2.2gal

Front Axles

5.5gal

Rear Axles

5.5gal

Hydraulic System (Including Tank)

42.3gal

Hydraulic Tank

23.8gal

Diesel Exhaust Fluid (DEF) Tank

5.0gal

Tires

Standard Size

20.5 R25, radial (L-3)

Other Choices Include:

20.5 R25, radial (L-2); 20.5 R25, radial (L-5); 20.5-25 12PR (L-2); 20.5-25 12PR (L-3); 20.5-25 16PR (L-5); Flexports Gen II

Other Choices Also Include:

17.5 R25, radial (L-2); 17.5 R25, radial (L-3); 17.5 R25, radial (L-5); 550/65 R25 radial (L-3); Skidder/Agriculture

Axles

Front

Fixed; Locking differential (standard)

Rear

Oscillating ±11 degrees; Open differential (standard); Limited slip differential (optional)

Dimensions

Width over tires

8.33

Height to Top of ROPS/FOPS

10.95ft

Height to Center of Axle

2.24ft

Ground Clearance

1.3ft

Overall Length

24.44ft

Length - Rear Axle to Bumper

6.51ft

Center Line of Front Axle-Hitch

4.95ft

Wheel Base Length

9.84ft

Dump Clearance-Max Lift-45°

9.46ft

Bucket Pin Height at Max Lift

12.81ft

Overall Height - Bucket Raised

16.65ft

Reach at Max Lift and 45° Dump

3.35ft

Rack Back Angle at Max Lift

54.0 Degrees

Dump Angle at Max Lift

50.0 Degrees

Rack Back Angle at Carry

33.0 Degrees

Carry Height

1.50ft

Digging Depth

0.32ft

Operating Specificatons

Full Turn Tip Load

16587lb
Equipment
Power Train

Axle seal guards
Auto idle shut down feature
Cat C7.1 ACERT engine
– Power Modes (Standard and Performance)
– Power by Range (High Power in Range 4)
– Turbocharged and aftercooled
– Diesel particulate filter (Fit for Life)
Coolant protection to –34° C (–29° F)
Differential lock in front axle
Dry type air cleaner
Enclosed wet disc full hydraulic brakes
Fuel priming pump, automatic
Fuel water separator
Hydraulically driven demand cooling fan
Intelligent hydrostatic transmission
– Power train modes
– Directional shift aggressiveness
– Rimpull control, adjust wheel torque
– Creeper control, adjust ground speed
Lubed for life driveshafts
Parking brake, electric
Wide spaced 6 fins per inch cooling package
S·O·SSM sampling ports
Throttle lock and maximum speed limiter

Hydraulics

Automatic lift, lower and tilt kickouts
Bucket and Fork Modes, adjustable in-cab
Cylinder damping at kickout and end stops
Fine Mode control in Fork Mode
Hydraulic Response setting
Load sensing hydraulics and steering
Seat-mounted hydraulic joystick controls

Electrical

Alternator, 115-amp, heavy duty
12V power supply in cab (2)
Batteries, 1,000 CCA (2) 24 volt system
Back-up alarm
Emergency shutdown switch
Heavy duty gear reduction starter
Product Link PRO with subscription
Remote jump start post
Resettable critical function breakers

Operator Environment

75 mm (3 in) retractable seat belt, with audible alarm and indicator
Automatic temperature control
Cab, enclosed and pressurized
Cup holders
External heated mirrors with lower parabolic
Ground level cab door release
Gauges
– Digital hour, odometer, tachometer, ground speed and direction indicator
– Engine coolant temperature gauge
– Fuel and Diesel Exhaust Fluid level
– Hydraulic oil temperature gauge
Hydraulic control lockout
Interior cab lighting, door and dome
Interior rearview mirrors (2)
Lunch box storage
Operator warning system indicators
Radio ready speakers
Rear window defrost, electric
Seat-mounted controls, adjustable
Sliding glass on the side windows
Column mounted multi function control – lights, wipers, turn signal
Suspension seat, fabric
Tilt and telescopic steering wheel
Wet arm wiper/washer, front and rear

Other Standard Equipment

Large-access enclosure doors
Parallel lift loader linkage
Recovery hitch with pin
Remote mounted lubrication points
Lockable compartments and enclosures
Optional Equipment

Antifreeze/coolant, extended-life
Auto lube, integrated in secondary display
Auxiliary flow, third and fourth function
Axles, differential, limited slip, rear
Beacon light, strobe
Cab, deluxe (standard in Europe):
– Automatic blower control
– Electrically adjustable heated mirrors (2)
– LED interior lighting
– Touchscreen secondary display
Ride control adjustable speed activation
Preventative maintenance reminders
Integrated help function (26 languages)
Sunscreen, front and rear
Camera, rearview (standard in Europe)
Cold start package:
– Ether starting aid, block heater and additional batteries, 1,000 CCA (4 total)
Counterweight, (heavy and logger)
Coupler, (Fusion and ISO 23727)
Debris packages (low, medium, high)
Fenders (extended cover and full coverage)
Guards
– Power train, (lower, side, driveshaft and crankcase)
– Windshield and lights
– Cylinders, tilt and steering
– Rear radiator, heavy duty
Linkage, high lift
Lights, auxiliary, halogen or LED with engine compartment lights
Payload Technology
– Cat Production Measurement (CPM)
– CPM Printer
Rear Object Detection
Radio packages:
– Radio ready with Bluetooth
– Radio, AM/FM with Bluetooth and clock
– Radio, AM/FM with CD player deluxe, weatherband, Bluetooth and clock
Seats:
– Deluxe seat – fully adjustable fabric air suspension seat with mid seat backrest
– Premium seat – fully adjustable leather and fabric air suspension with high backrest and air lumbar support. Heated and cooled bottom cushion and backrest.
Steering:
– Dual mode and Secondary
Tires:
– Bias ply, 17.5, 20.5-25, Skidder
– Radial, 17.5, 20.5, 23.5, 550/65, 600/65, 650/65 R25
– Solid tires, 620/65, 750/65 Agriculture
Tire Pressure Monitoring (TPM)
Toolbox
Work tools
Find a Whayne or Walker

Location

or

Rep

Near You