ATS MX Contactor:
MX150 Microprocessor Controller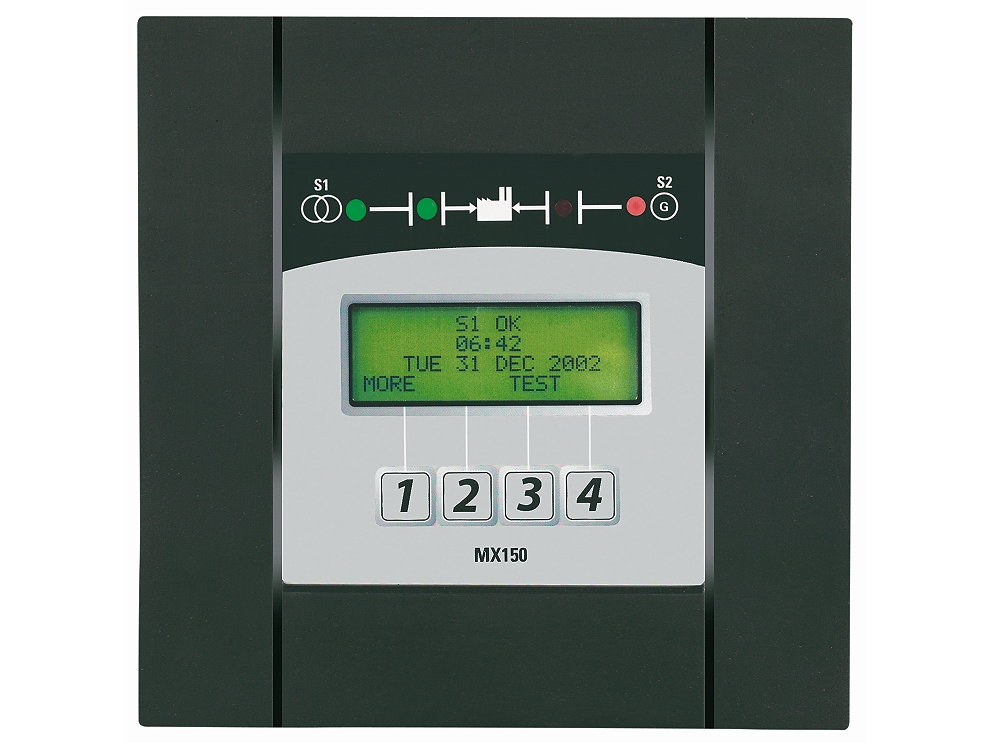 Underfrequency Dropout for Source 1 and Source 2

88-98% of nominal

Underfrequency Restore for Source 1 and Source 2

90-100% of nominal

Delay for Engine Cool Down (U)

0-10 seconds

Delay Transfer to Nonpreferred Source (W)

0-5 minutes
The MX150 microprocessor is standard with the CTG product family. The MX150 microprocessor panel controls the operation and displays thes tatus of the transfer switch's position, timer sand available sources. As an embedded digital controller, the MX series offers high reliability and ease of unattended operation across a range of applications.
---
---
Product Specs
Controller Specifications

Underfrequency Dropout for Source 1 and Source 2

88-98% of nominal

Underfrequency Restore for Source 1 and Source 2

90-100% of nominal

Delay for Engine Cool Down (U)

0-10 seconds

Delay Transfer to Nonpreferred Source (W)

0-5 minutes

Delay NeutralTransition Time Delays (DT,DW)

0-10 minutes

Storage Temperature

(-30˚C - 75˚C ), -22˚F - 167˚F

Operating Temperature Ambient

40 - 400 amp molded shell (-20˚C to 65˚C) , -4˚F to 149˚F
40 - 4000 amp all others (-20˚C to 60˚C), -4˚F to 149˚F

Undervoltage Dropout for Source 1 and Source 2

75-98% of nominal

Undervoltage Restore for Source 1 and Source 2

85-100% of nominal

Technical Summary

Rating Range

Switch Dependent

Transfer Type

Application Dependent

Switch Type

Application Dependent
Find a Boyd CAT

Location

or

Rep

Near You
BOYD CAT USED PARTS - offering discontinued, rebuilds, out of stock, and CAT bargain list and aftermarket. Save money. Buy used. Used_Parts@BoydCAT.com
X