Industrial:
Cat® C18 Industrial Power Unit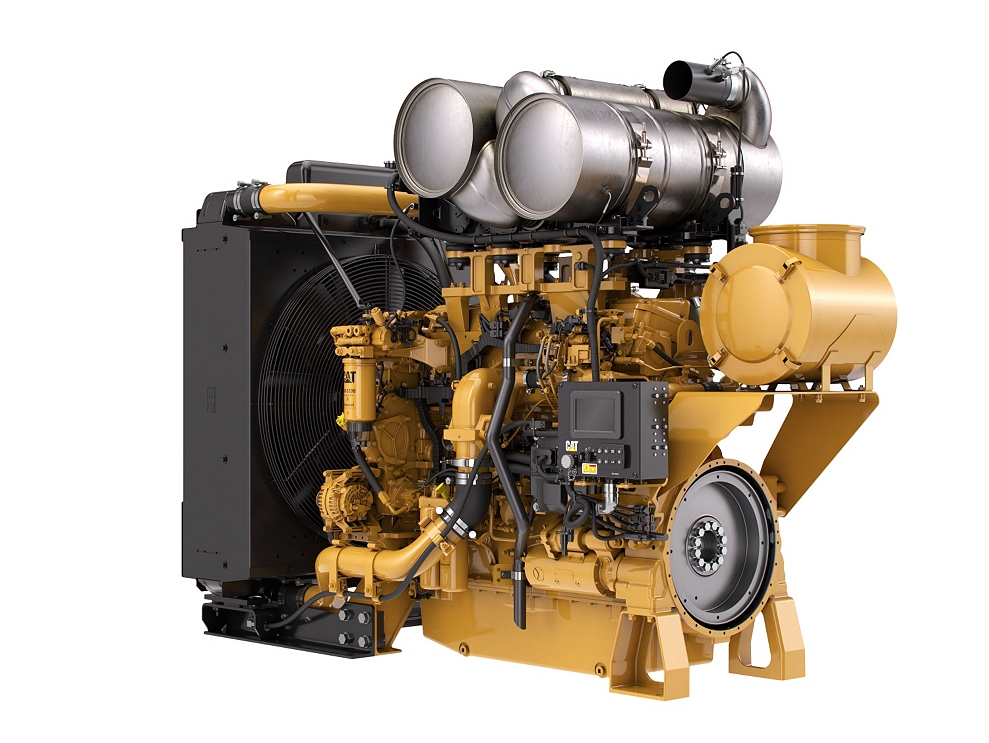 Minimum Power

575.0 bhp

Maximum Power

630.0 bhp

Emissions

U.S. EPA Tier 4 Final, EU Stage IV nonroad emission standards. Designed to meet proposed EU Stage V nonroad emission standards.

Rated Speed

1800-2000 rpm
The Cat® C18 Industrial Power Unit is offered in ratings ranging from 429-470 bkW (575-630 bhp)@ 1800-1900 rpm. Conveniently pre-configured for a wide range of applications, the Cat® Industrial Power Unit is a complete power package containing a radiator, flywheel, alternator and alternator wiring completely pre-assembled for fast, straightforward installation in a number of OEM, customer and packager applications. These fuel efficient units are ready made for irrigation, industrial, mining and other pump applications.
---
---
Product Specs
Power Rating

Minimum Power

575.0bhp

Maximum Power

630.0bhp

Rated Speed

1800-2000 rpm

Minimum Power

575HP

Maximum Power

630HP

Rated Speed

1800-2000 rpm

Emission Standards

Emissions

U.S. EPA Tier 4 Final, EU Stage IV nonroad emission standards. Designed to meet proposed EU Stage V nonroad emission standards.

Emissions

U.S. EPA Tier 4 Final, EU Stage V

General

Engine Configuration

Inline 6, 4-Stroke-Cycle Diesel

Bore

145 mm (5.71 in)

Stroke

183 mm (7.2 in)

Displacement

18.1 L (1104.5 in³)

Aspiration

Turbocharged Aftercooled (TA)

Compression Ratio

16:1

Rotation (from flywheel end)

Counterclockwise

Cooling System Capacity

26.9 L (28.4 qt)

Lube System (refill)

40-74 L (42.3-78.1 qt)

Bore

5.7in

Stroke

7.2in

Displacement

1104.5in³

Engine Configuration

Inline 6, 4-Stroke-Cycle Diesel

Bore

145 mm (5.71 in)

Stroke

183 mm (7.2 in)

Displacement

18.1 L (1104.5 in³)

Aspiration

Turbocharged Aftercooled (TA)

Compression Ratio

16.0:1

Rotation from Flywheel End

Counterclockwise

Cooling System - Capacity

26.9 L (28.4 qt)

Lube System - Refill

40-74 L (42.3-78.1 qt)

Aftertreatment Dimensions (Approximate. Final dimensions dependent on selected options)

Diameter

330.2 mm (13 in)

Weight

180-268 kg (397-590.8 lb)

PETU Dimensions - Tier 4 Final Only

Volume Capacity

51.1qt (US)

Aftertreatment Dimensions

Diameter

13in

Weight

591lb

Power Unit Dimensions - Approximate

Length

2172-2532 mm (85.5-99.7 in)

Width

1180-1241 mm (46.5-48.9 in)

Height

1912-2006 mm (75.3-79 in)

Weight - Approximate, Net Dry - Standard Configuration Without Oil, Cooling, Clutch, Compressor, A/C

2113-2650 kg (4658-5842 lb)

Aftertreatment Dimensions - Approximate

Width

762-1112 mm (30-43.8 in)

Height

468-652 mm (18-25.7 in)

Diameter

330.2 mm (13 in)

Weight

180-268 kg (397-590.8 lb)

PETU Dimensions - Tier 4 Final, Stage IV Only

Volume Capacity

48.4 L (51.1 qt)

Length

854 mm (33.6 in)

Width

287 mm (11.3 in)

Height

551 mm (21.7 in)

Weight

19.42 kg (42.8 lb)
Equipment
Air Inlet System

Turbocharged
Air-to-Air Aftercooled
Mid-mount turbocharged system with front and rear exhaust configurations (Tier 4 Final, Stage IV)

Control System

Electronic control system
Over-foam wiring harness
Automatic altitude compensation
Power compensated for fuel temperature
Remote fan control
Configurable software features
Engine monitoring system SAE J1939 broadcast and control
Integrated Electronic Control Unit (ECU)

Cooling System

Thermostats and housing, vertical outlet
Centrifugal water pump
Guidance on cooling system design available through your dealer to ensure equipment reliability

Flywheels And Flywheel Housing

Choice of SAE No. 0 or SAE No. 1 flywheel housing
Available SAE No. 1 power take off with optional SAE A, SAE B or SAE C power take off drives. Engine power can also be taken from the front of the engine with optional attachments. (Tier 4 Final, Stage IV).

Fuel System

MEUI injection
Primary fuel filter
Secondary fuel filters
Fuel transfer pump
Electronic fuel priming

Lube System

Open crankcase ventilation system
Oil cooler
Oil filler
Lube oil filter
Oil dipstick
Gear driven oil pump
Choice of front, rear or center sumps
Open crankcase ventilation system with fumes disposal (optional OCV filter system) (Tier 4 Final, Stage IV)

Power Take Off (pto)

SAE A, SAE B or SAE C power take off (PTO) drives. Engine power can also be taken from the front of the engine on some applications.

General

Paint: Caterpillar yellow, with optional colors available at request

U.s. Epa Tier 4 Interim, Eu Stage Iiib Aftertreatment / Clean Emissions Control Equipment

Cat Regeneration System
Aftertreatment information applies to ratings from 429-522 bkW (575-700 bhp)
Clean Emissions Module (CEM), consisting of Diesel Particulate Filter (DPF) and Diesel Oxidation Catalyst (DOC)
NOx Reduction System (NRS)
Flex pipe connection kit with 90° rotatable elbows to attach to Cat Regeneration System Inlet
Available in 12 volt or 24 volt systems

U.s. Epa Tier 4 Final, Eu Stage Iv Aftertreatment/ Clean Emissions Control Equipment

Cat Regeneration System
Aftertreatment information applies to ratings from 429-522 bkW (575-700 bhp)
Clean Emissions Module (CEM), consisting of Diesel Particulate Filter (DPF) and Diesel Oxidation Catalyst (DOC)
Aftertreatment Electronic Control Unit (ECU)
NOx Reduction System (NRS)
Pump Electronic Control Unit (PETU)
Selective Catalytic Reduction (SCR)
Available in 12V or 24V systems
Find a Boyd CAT

Location

or

Rep

Near You
BOYD CAT USED PARTS - offering discontinued, rebuilds, out of stock, and CAT bargain list and aftermarket. Save money. Buy used. Used_Parts@BoydCAT.com
X