Articulated Truck Bare Chassis:
730C2 Bare Chassis Articulated Truck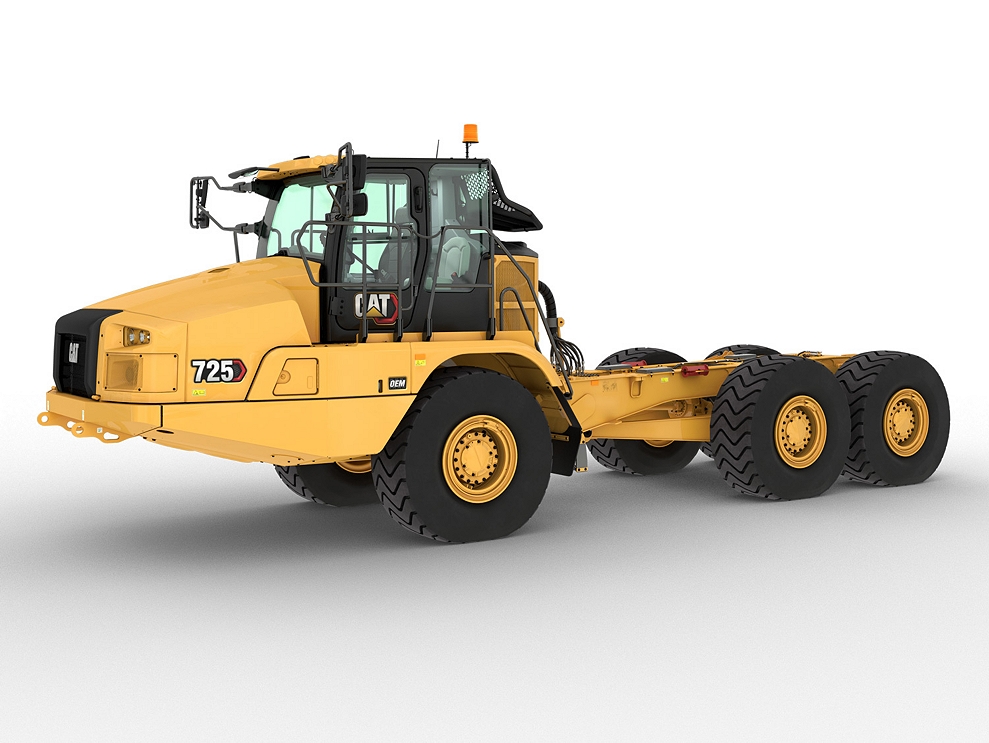 Engine Model

Cat C13

Gross Power - SAE J1995

375.0 hp

Net Power - SAE J1349

367.0 hp

Bore

5.12 in
The OEM 730C2 Bare Chassis is a true "on-the-go" Automatic Traction Control (ATC). Strong, durable Cat C13 ACERT engine platform with U.S. EPA Tier 4 Final/EU Stage IV engine emission solution. Advanced Productivity Electronics Control Strategy (APECS) delivers a smooth shifting transmission, improving acceleration with higher productivity.
---
---
Product Specs
Engine

Engine Model

Cat C13

Gross Power - SAE J1995

375.0hp

Net Power - SAE J1349

367.0hp

Bore

5.12in

Stroke

6.18in

Displacement

763.0in3

Net Power - ISO 14396

370.0hp

Engine Model - U.S. EPA Tier 4 Final/EU Stage IV

Cat® C13 ACERT™

No Engine De-rating Required Below

12500ft

Peak Engine Torque Gross (SAE J1995)

1579lb/ft

Peak Engine Torque Net (ISO 14396)

1564lb/ft

Peak Engine Torque Speed

1200r/min

Engine Model

Cat C13

Gross Power - SAE J1995

375HP

Net Power - SAE J1349

367HP

Bore

5.12in

Stroke

6.18in

Displacement

763in³

Net Power - ISO 14396

370HP

Transmission

Forward 1

5.0mph

Forward 2

9.0mph

Forward 3

14.0mph

Forward 4

21.0mph

Forward 5

29.0mph

Forward 6

34.0mph

Reverse - 1

6mile/h

Forward - 1

5mile/h

Forward - 2

9mile/h

Forward - 3

14mile/h

Forward - 4

21mile/h

Forward - 5

29mile/h

Forward - 6

34mile/h

Service Refill Capacities

Fuel Tank

108.8gal

Cooling System

21.9gal

Hydraulic System

29.1gal (US)

Engine Crankcase

10.5gal (US)

Transmission

9.2gal (US)

Final Drives/Differential

35.7gal (US)

Output Transfer Gear Box

6.3gal (US)

DEF Tank (ISO 2224-1)

5.3gal (US)

Fuel Tank

108.8gal (US)

Cooling System

21.9gal (US)

Standards

Brakes

ISO 3450 - 2011

Steering

ISO 5010 - 2007

Cab - FOPS

ISO 3449 Level II - 2005

Cab - ROPS

ISO 3471 - 2008

Brakes

ISO 3450 - 2011

Steering

ISO 5010 - 2007

Wheel Base Length

Standard Wheel Base

156.7in

Long Wheel Base

215.2in

Weights

Rated Payload

31t

Sound Levels

Interior Cab

76dB(A)

Steering

Lock to Lock

4.75 seconds @ 60 rpm

Turning Circle

Note

Dimensions are for machines equipped with 23.5R25 tires.

Turning Dimensions - Aisle Width

210in

Turning Dimensions - Clearance Radius

318in

Turning Dimensions - Inside Radius

153in

Turning Dimensions - SAE Turning Radius

294in

Turning Dimensions - Steer Angle - Left/Right

45°
Find a Whayne or Walker

Location

or

Rep

Near You